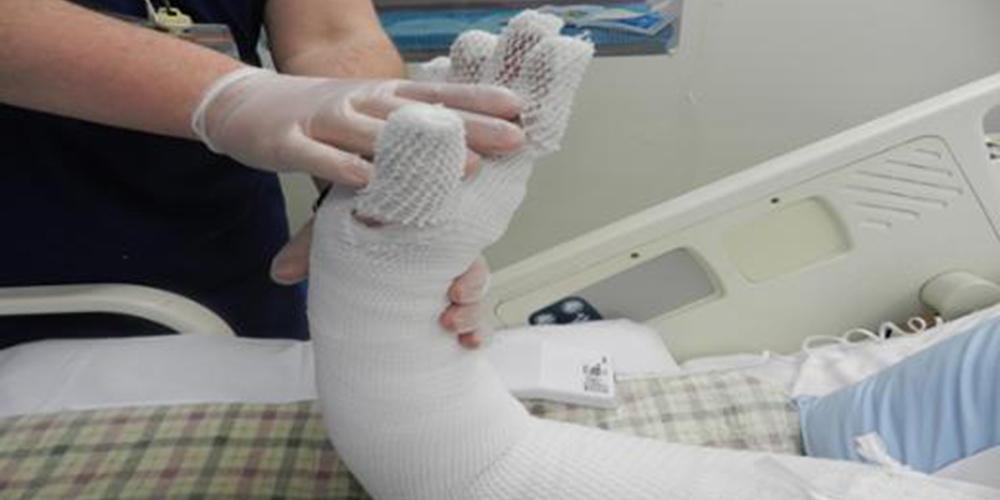 Burn Rehabilitation Program
Upstate Regional Rehabilitation Centers at University Hospital
Upstate University Hospital
Rm. N2104
750 East Adams Street
Syracuse, NY 13210
Google Maps & Directions
Phone:
315 464-6543
Fax:
315 464-4753
| | |
| --- | --- |
| Hours: | Mon.-Fri. 7:30am-4:30pm |
Inpatient Program
At University Hospital, we offer rehabilitation for patients recovering from a burn, in the Clark Burn Center and in the Rehabilitation Unit. All patients will be evaluated by our physical and occupational therapists to determine their current level of function.
The therapy team will aim to maximize independence by improving range of motion, functional mobility, ambulation, and the patient's ability to perform daily activities such as dressing and bathing. Our therapy staff works closely with physicians, nursing, and other staff members to ensure patients are receiving comprehensive care during the inpatient stay.
Our program includes the following:
Comprehensive medical management
Self-care Program
Leisure education
Case management
Therapeutic Exercise and Functional Mobility/Activities Program
Psycho-social needs assessment
Patient/family counseling and support
Splinting/garment care
Spiritual support
Patients are able to continue in our outpatient program once discharged from the University Hospital or the Rehabilitation Unit.
Outpatient Program
The Physical Medicine and Rehabilitation Department at University Hospital offers a comprehensive therapy program for individuals who have an injury from a burn, once discharged from hospital care. This program provides services for both adults and children. Individualized treatment programs include the following:
Therapeutic exercises for range of motion and strengthening
Splinting for increasing and maintaining joint mobility
Activities of daily living training
Functional mobility training
Scar management, including pressure garments, inserts, and wraps during scar healing
Our staff of therapists works closely as part of the Clark Burn Center team.
A physician's referral is required for examination and treatment within this program.
Burn Survivors Support Group
This community support group is open to all survivors of burn.
Meets 1st Thursday of every month
5-7 pm
University Hospital, Room 6408
Contact 464-6083 for more information regarding Burn Support Services.