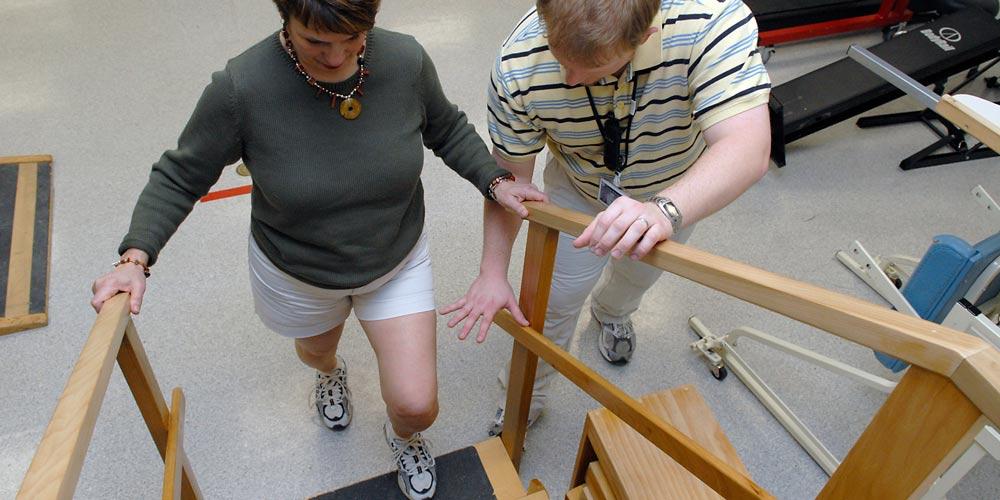 Upstate Rehabilitative Therapies
When the unexpected happens from an injury or illness, and physical therapy or cognitive assistance is needed, you can continue to recover at our state-of the-art facility.
At the University Hospital Rehabilitation Center, you will receive the best of both Inpatient Rehabilitation and Outpatient therapy right here in Central New York. There is no need to travel to facilities that are far away and inconvenient for family to visit. Upstate offers these therapy disciplines:
Acute Inpatient Rehabilitation
At University Hospital you will receive therapy in the hospital while you are recovering from your injury or procedure. If you need additional rehabilitation services and need to remain in the hospital, you may qualify to come to the 30 bed Acute Inpatient Rehabilitation Unit at the downtown campus or our 20 bed Acute Inpatient Rehabilitation Unit at the Community campus.
The Acute Inpatient Rehabilitation team will provide a combination of physical therapy, occupational therapy, speech and language pathology, and vocational rehabilitation therapy 3 hours a day, 5 days a week to help the patient be the best they are able to be. We admit patients from 12 months of age and up. The staff is a dedicated team of professionals who are experts at treating those with brain injuries, stroke, spinal cord injuries, amputation, major multiple trauma or suffered from other various illnesses. Family members or caregivers are encouraged to participate in your recovery and they are considered part of the rehabilitation team.
If you have further questions we encourage you to visit our facilities in person and take a tour.
Outpatient Facilities
University Hospital Rehabilitation Center provides physical therapy, occupational therapy, speech and language pathology, and rehabilitation counselor services at various levels throughout your recovery. In addition to the Acute Inpatient Unit, your care can be continued at the outpatient site at University Hospital, or at one of the comprehensive outpatient programs at five satellite facilities.
Our patients receive specialized care by a highly skilled and dedicated team of rehabilitation professionals including:
Nurses
Therapists
Physical therapists
Occupational therapists
Speech and language pathologist
rehabilitation counselor specialist
Case Managers
Board Certified Doctors
Many of our patients are able to return home. If you need further assistance and are unable to return home, you will be assisted in finding the best location to meet your rehabilitation needs.