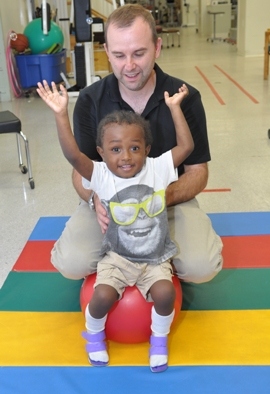 Upstate is proud to be the sole academically based Pediatric PM&R service in the CNY community and surrounding area for both inpatient and outpatient rehabilitation services. This provides residents with exposure to PM&R in pediatric settings normally seen in a fellowship.
In the PGY-2 year rotation, you will learn various aspects of Pediatric Rehabilitation Medicine. Patients often travel several hours for outpatient appointments. Residents participate in an outpatient clinic setting, where there is typically your introduction to spasticity management and botulinum toxin injections. Acute hospital consults at the Golisano's Children Hospital are completed under supervision of a fellowship trained PM&R attending.                   
In the PGY-3 year, residents manage the care of pediatric patients in an acute rehabilitation setting.