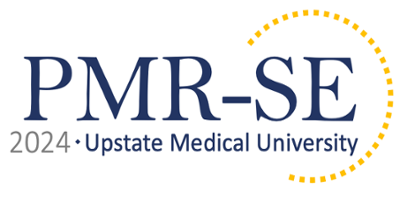 The SUNY Upstate Physical Medicine and Rehabilitation Summer Experience (PMR-SE) is designed to give students exposure to Physical Medicine and Rehabilitation in the clinical setting. Students will participate in clinical experiences during regular clinic hours, participate in education to understand disability and health, and complete quality improvement (QI) projects.
PMR clinical placements can include pediatrics, inpatient, outpatient, musculoskeletal, neuro, electrodiagnostic, prosthetics/orthotics, and spinal cord injury (at the Syracuse VA). Students may have the opportunity to submit an abstract for a poster to the 2025 Association of Academic Physiatrists Annual Meeting as a part of the QI project. The program is led by Dr. Margaret Turk and the Disability and Health Research (DHR) Team. This eight week program provides rising MS2 SUNY Upstate Medical University students with valuable experience and insight into healthcare for people with disability. 
Location: in person clinical rotations with some remote work
Duration: 8 weeks beginning in June and ending in August
Compensation: academic credit and/or work study pending approval
Experience: clinical placement, quality improvement project, research, education sessions
Application Information
Applications for Summer 2024: Now open!
Applications Close: January 29, 2024
Candidates Selected: February 2024
Program Begins: June 2024