PGY-2 Pediatrics Residency
A message from our PGY-2 Pediatrics Pharmacy Residency Program Director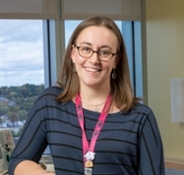 "My dedication to this program as a residency director is steadfast, as I am both a graduate of the PGY-1 Pharmacy and PGY-2 Pediatric Residencies at Upstate. We provide an attractive learning environment and unique opportunities that will help you grow into a well-rounded pediatric specialist. The pediatric pharmacy team is an integral part of the patient experience here at Upstate because we consistently provide dedicated specialized knowledge to the medical providers, patients and caregivers."
Kelly Steidl, PharmD, BCPPS
Brief Educational Program Overview
The American Society of Health-System Pharmacy (ASHP) accredited PGY-2 Pediatric Pharmacy residency offers a concentrated experience in various areas of pharmacy practice focused on the care of pediatric patients. In addition to participating in core clinical rotations in general pediatrics, pediatric critical care, pediatric hematology oncology, pediatric ambulatory care and various subspecialty electives, residents will participate in teaching activities, including in-services, clinical pharmacy rounds, pediatric grand rounds and co-precepting opportunities with PGY-1 residents and pharmacy students.
Complementing the clinical experience, residents will be involved in journal club presentations, newsletter publications, drug utilization evaluations, formulary drug reviews and a structured research project. Research intensity is driven by residents' desire.
Detailed Program Description
Definition: This PGY-2 Pediatric Residency gives the candidate a concentrated experience in pediatric pharmacy practice that centers on the development of knowledge, attitudes, and skills needed to pursue rational drug therapy within the practice areas involving the care of pediatric patients.
Purpose: Pediatric PGY2 pharmacy residency programs build on Doctor of Pharmacy (Pharm.D.) education and PGY1 pharmacy residency programs to contribute to the development of clinical pharmacists in advanced or specialized practice. PGY2 residencies provide residents with opportunities to function independently as practitioners by conceptualizing and integrating accumulated experience and knowledge and incorporating both into the provision of patient care that improves medication therapy. Residents who successfully complete an accredited PGY2 pediatric pharmacy residency should possess competencies that qualify them for clinical pharmacist and/or faculty positions and position them to be eligible for attainment of board certification in pediatric pharmacotherapy
Objective: The objective is for the resident to learn and gain experience in various areas of pediatric pharmacy practice while contributing to the mission and goals of the hospital's pharmacy services.  This will be accomplished by completing activities and acquiring skills that reflect the goals and objectives within the outcomes identified by ASHP which demonstrate successful completion of a PGY2 Pediatric Pharmacy Residency. 
By the end of the Residency, the resident will:
Demonstrate leadership and practice management skills in the pediatric patient care setting.
Optimize the care of inpatient and outpatient pediatric patients by providing evidence-based, patient-centered medication therapy as an integral part of an interdisciplinary team.
Serve as an authoritative resource on the optimal use of medications used to treat pediatric patients.
Evaluate, manage, and improve the medication-use process in pediatric patient care areas.
Demonstrate excellence in the provision of training or educational activities for pediatric health care professionals, health care professionals in training, and the public.
Conduct pediatric pharmacy research.

Program Structure and Design
The 12-month structure of this residency program will utilize three methods of learning experiences: Rotational, Longitudinal and Concentrated Learning.  Rotational learning is accomplished through both the required and elective rotations.  Rotations are of a fixed duration in which specific objectives are set with corresponding criteria for evaluation.  Preceptors evaluate the resident throughout the rotation via written and verbal means, and at the end of the rotation through the summative evaluation.  Longitudinal experiences are activities that are required of the resident throughout the entire residency, performed during the same time as the rotational experiences.  Concentrated experiences are the ongoing didactic experiences that occur throughout the year.  
Rotations:
Each learning experience has established learning activities that are matched to the 2017 ASHP Accreditation Standards for Postgraduate Year Two (PGY2) Pharmacy Residency Program and the 2016 ASHP Required Competency Areas, Goals and Objectives for PGY2 Pediatric Pharmacy Residencies.
Required Learning Experience
Length
Orientation to Pediatrics and Distribution
2 weeks
Pediatric Pharmacy Practice – 1
4 weeks
Pediatric Pharmacy Practice – 2
4 weeks
Pediatric Pharmacy Practice – 3
4 weeks
PICU-1
4 weeks
PICU-2
4 weeks
Pediatric Hematology/Oncology
4 weeks
NICU-1
2 weeks
NICU-2
2 weeks
Pediatric Infectious Diseases
4 weeks
Pediatric Emergency Medicine
4 weeks
Ambulatory Care (fixed weekly afternoon rotation)
Longitudinal
Pediatric Pharmacy Administration and Leadership (PPAL)
Longitudinal
TPN Service
Longitudinal
Research
Longitudinal
Clinical Weekend Coverage
~2 days/month
PALS Certification
Concentrated
Platform Presentation
Concentrated
Pediatric Grand Rounds
Concentrated
Elective Rotations
Toxicology
4
Administration and Management
4
PICU – 3 Elective
4
Pediatric Infectious Diseases – 2
4
Pediatric Emergency Medicine – 2
4
Pediatric Palliative Care
4
Pediatric Emergency Medicine – 2
4
Elective rotations in practice areas not previously established will be considered on a case by case basis and, if developed, will have goals and learning experiences established before the beginning of the rotation.
Other Responsibilities:
Pediatric Pharmacy and Therapeutics Subcommittee Participation
Staffing and Weekend Coverage

The program involves elements of staffing to support pharmacy services

Minimum of one weekend per month focused on clinical activities
Minimum of one evening every 3 weeks staffing either on the pediatric pharmacy satellite or in the main pharmacy from 16:00-20:00
Pediatric Pharmacy On Call Service

The resident will be responsible to remain available via phone/vocera during normal working hours to address questions or problems from other pharmacy department members.  This may include:

Pharmacokinetic consultations
Complex drug therapy questions
Pediatric pharmacy practice/administration problems. 

Code White Team Pager Response

During normal working hours, the resident will be included in the code white team pager and will be expected to attend every event to determine need for drug therapy and pediatric pharmacist participation. The resident will document each attended event along with scope of participation.
Salary and Benefits
Click on Benefits/Housing link for more information
Site: Upstate Golisano Children's Hospital
The Golisano Children's Hospital (GCH) is part of the vertical expansion of University Hospital. The GCH is a 71-bed children's hospital space within the 735-bed Upstate Health System that combines Upstate University Hospitals on the Downtown and Community campuses.
Ambulatory care services provided by hospital faculty and staff in an adjacent complex include pediatric and adolescent as well as numerous subspecialty clinics. The Department of Pharmacy has a dedicated team of pharmacists that provide clinical services for pediatrics and operate from their own office in the children's hospital.
Interested candidates should contact Dr. Kelly Steidl (steidlk@upstate.edu) for more information.