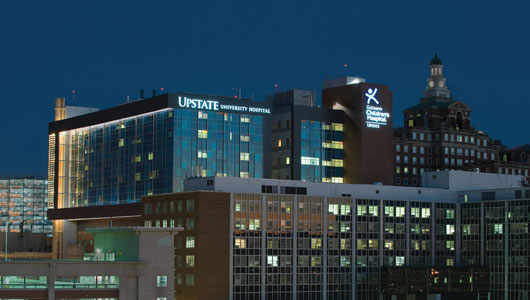 Our new pharmacy was built in 2005 and the new design is driven by a high degree of computerization with respect to medication ordering, distribution and inventory management.
Located in University Hospital, the facility also houses pharmacy offices, conference room, three certified clean rooms, and a patient counseling room.
Vertical carousels provide state-of-the-art technology for inventory and allow bar coding for individual medications and inventory tracking for just-in-time delivery.
EPIC was implemented in 2015 with a wireless computer verification to increase pharmacy rounding with physicians.
Bedside Barcode Medication Administration Verification system is currently being deployed housewide, along with an electronic medication administration record.
Residency Site - University Hospital
University Hospital, the area's only Level-1 trauma center, has decentralized pharmacy services for every patient care area, including the Emergency Department.
Upstate Golisano Children's Hospital
The Upstate Golisano Children's Hospital is the signature piece of the East Tower vertical expansion at University Hospital. Housed on the top two floors of the expansion, the new children's hospital provides over 87,000 square feet of space devoted to patient and family friendly amenities. The Department of Pharmacy has a dedicated team of pharmacists that provide clinical services for pediatrics and operate from their own office in the children's hospital.
Ambulatory Care Services
Ambulatory care services include:
In 2005, SUNY Upstate University Hospital was recognized by the University Health Consortium as the best performer in medication safety management among academic medical centers.