Certificate Programs and Micro-Credential During Residency
Medical Emergency Certificate (MEC)
Purpose: The purpose of the Medical Emergency Certificate (MEC) program is to train pharmacy residents and pharmacists to develop proficiency in providing support services, including resuscitation and stroke, as part of a medical emergency team caring for patients admitted to the hospital.
Training Program Design: This 12-month longitudinal program is designed to train pharmacists and pharmacy residents to contribute to the provision of medical emergency services.  Some of the goals and objectives of the training program were adopted from the ASHP Competency Area, Goals and Objectives (CAGO) documented for PGY-2 Emergency Medicine program.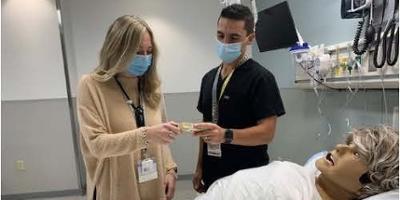 Resident training with preceptor in Simulation Center.
Clinical Research Micro-Credential
Purpose: The Clinical Research Micro-Credential is designed to provide basic clinical knowledge and skills in research for pharmacy residents, students and other pharmacy staff. Graduates will successfully be able to complete a clinical research project, prepare a manuscript and submit for peer review and possibly publication.
Training Design: This 12-month longitudinal micro-credential is designed to provide participants with the wide range of knowledge, skills, and experiences necessary to successfully design, execute, analyze, and publish a clinical research project. A defined curriculum has been designed to help hone these skills for each participant.
For more detailed information click Clinical Research Micro-Credential Curriculum
Teaching and Learning Certificate
Purpose: The teaching and learning certificate (TLC) program will provide pharmacy residents with formal training in the theory and application of teaching techniques. Program participants will receive training and experience in a variety of teaching environments, help to design effective assessment techniques, and develop the necessary roles of an effective preceptor.
Training Program and Design: This longitudinal program is provided by the St. John Fisher Wegman's School of Pharmacy in collaboration with the Ralph C. Wilson, Jr. School of Education. The residents receive a mixture of live and virtual sessions longitudinally throughout the year. In an effort to augment the activities of the TLC program, the teaching, education, dissemination of knowledge longitudinal learning experience (TEDKLE) is also included in our residency curriculum at Upstate University Hospital. TEDKLE is designed to allow the resident to receive constructive feedback in the areas of educational activity design, delivery, and precepting with the guidance of experienced preceptors who are designated to each of our residents.