The long-term goal of the Auerbach Laboratory is to investigate the prevalence, risk factors, and mechanisms for dual electrical disturbances of the brain (seizures) and heart (arrhythmias). We are particularly interested in improving our understanding of the multi-system cascade of events that lead to Sudden Unexpected Death in Epilepsy Patients (SUDEP), which will hopefully identify markers for SUDEP.
Bedside-to-Bench-to-Bedside Approach: We take a multi-system (brain & heart) and multi-scale (molecular, biochemical, cellular, organ, in vivo, and clinical) approach to investigating electrical diseases of the brain and heart. We perform patient database analyses to examine the co-prevalence and risk of seizures and arrhythmias. Then using cellular and animal models of the disease we perform molecular/biochemical and electrophysiological approaches to understand the underlying mechanisms for these neuro-cardiac pathologies. Ultimately, these results are validated using patient databases, and thus complete the full bedside-to-bench-to-bedside paradigm.
Bedside to Bench to Bedside Research Approach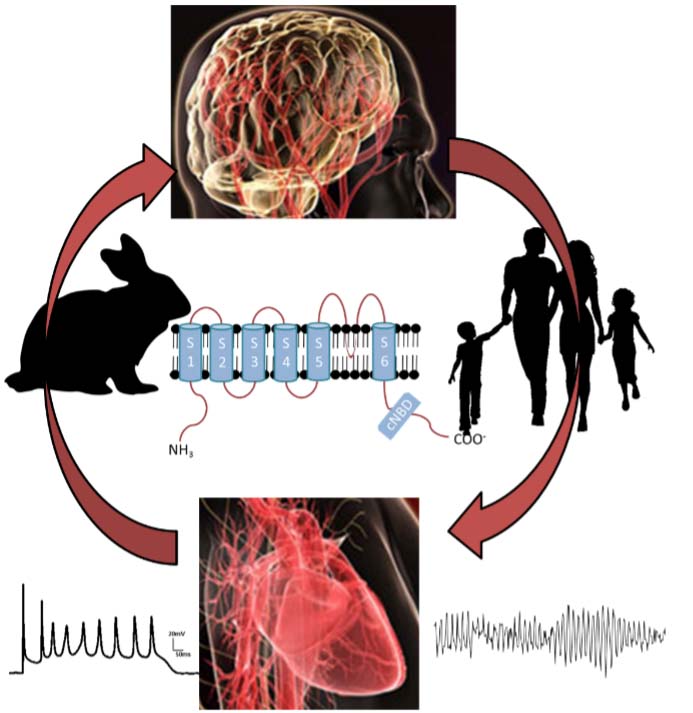 Multi-System Approach to Understanding and Treating Genetic Ion Channel Diseases: The Auerbach Lab's "Bedside-to-Bench-to-Bedside" approach to research involves clinical studies of humans with a history of electrical disturbances in the brain (seizures/epilepsy) and heart (arrhythmias). Additionally, we generated a genetic rabbit model of an inherited cardiac arrhythmia disease. It enables us to explore the underlying causes for these abnormalities by performing experiments at the molecular, biochemical, cellular, and whole animal levels.  Each aspect of the research program feeds and motivates the others, creating a productive research cycle.
Expand all
Clinical Research Projects (Retrospective Datasets & Prospective Recordings from Wearable Sensors)
Millions of Americans have epilepsy and they are at a high risk of sudden death (e.g., SUDEP.) Unfortunately, the underlying mechanisms remain unknown.
As cardiac events are one mechanism for SUDEP, we are starting with the heart. In genetic models of epilepsy, we showed it is critical to look outside the brain, as these mutations lead to alterations in cardiac electrical function, which include altered ion channel activity, hyperexcitability, and arrhythmias.
Following a bench-to-bedside paradigm, we reported cases of cardiac ECG abnormalities and near-lethal arrhythmias in patients with severe genetic forms of epilepsy. We use analytical tools that are well accepted in the field of cardiology, but new to epilepsy and SUDEP, to identify epilepsy patient populations at risk of cardiac-related SUDEP. Additionally, we use wearable technology to acquire continuous multi-system recordings, which enables us to capture events outside the hospital. The goal is to develop a comprehensive SUDEP risk assessment tool to help identify people with epilepsy who are at risk for SUDEP, so that measures can be put in place to prevent SUDEP from occurring.
Clinical Database Studies: Data is collected from patients during interictal baseline periods, and surrounding seizures. The Auerbach Lab studies the patients' ECG during these time periods in hopes of identifying cardiac biomarkers for SUDEP risk.
Basic Science Projects (Cellular and Animal Models of Long QT Syndrome)
Starting at the patient level, we demonstrated that patients with a classically studied inherited cardiac arrhythmia disease, Long QT Syndrome (LQTS), are at an increased risk of seizures. Yet, the underlying cause for these seizures remains unknown. We developed a novel mutant rabbit model of LQTS, which reproduces the neuro-cardiac pathologies seen in LQTS patients. It enables us to conduct translational studies to investigate the mechanisms for arrhythmias and seizures in LQTS. Ongoing experimental approaches are at the molecular, biochemical, cellular electrophysiology, organ, and in vivo levels.
Long QT Syndrome: We showed that there is a higher prevalence of a history of seizures/epilepsy in patients with an inherited cardiac arrhythmias disease, Long QT syndrome, compared to their genotype negative family members. Patients with Long QT Syndrome Type 2 showed the highest prevalence of seizures.
Rabbit Model of Long QT Syndrome Type 2: The Auerbach Lab has developed multiple mutant rabbit lines that model the neuro-cardiac electrical abnormalities seen in patients with Long QT Syndrome Type 2. Video/EEG/ECG recordings, as well as respiratory measures, are recorded from the rabbits to validate the model and examine the underlying mechanisms.
EEG/ECG Recordings of Rabbits: Using a clinical grade EEG acquisition device, the Auerbach Lab records continuous EEG/ECG recordings from up to 7 rabbits simultaneously.
Publications
Recent Publications
*Corresponding Author, ₶Co-First Author