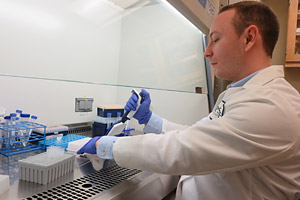 As a master's degree student in Pharmacology,
Rob Zollo
has packed a lot into his relatively brief two-year stay at Upstate.
"Upstate has prepared me for the next step," Rob said. "My Principal Investigator (Professor Ying Huang, MD, PhD) is constantly quizzing me. I've learned to think here in ways I never thought possible. In research, that's most important."
After he earns his master's in Pharmacology, Rob will join the immunology program at Buffalo's Roswell Park to pursue a PhD. His focus is on developing treatments for cancer.
"Immunotherapy is a passion of mine," Rob said. "It's a very hot topic, and is just now being appreciated."
Rob's research focuses on the protein RBEL1A, which is expressed in 65 percent of breast cancer patients. Dr. Huang and her team identified the protein RBEL1 and four isoforms (RBEL1A, RBEL1B, RBEL1C and RBEL1D) almost a decade ago.
Learning more about RBEL1A is crucial, Rob said, because recent findings show that it may be resistant to conventional chemotherapy drugs that are commonly prescribed.
"If we're able to show its response to chemotherapy and figure out why, we could potentially save thousands of lives," Rob said.
That process will take years of rigorous and expensive research, Rob said.
Rob, a native of Tilton, N.H., came to Upstate via Syracuse University, where he earned a degree in biochemistry. In addition to his studies and working in a lab, Rob captained the university's club wrestling team.
When he arrived at Upstate and joined Dr. Huang's lab, Rob said, "it solidified my place" in cancer research.
He said he's been able to walk down the hall to get help from fellow students in other labs – and then go out with them that night to play intramural volleyball.
"The community here is very supportive and close-knit," Rob said. "There are a lot of events, and you can make friends easily."