Caden Bonzerato
I graduated from SUNY Oswego with my B.S in Biochemistry in 2017 and a few months later I joined the Wojcikiewicz Lab in the Pharmacology Department here at Upstate as a Lab Technician. Coming out of undergrad, I was simply looking for a job and not really interested in pursuing any further degree. However, after two years as a technician and learning a lot of new things at the bench that I would never have learned in undergrad, I decided I wanted to continue my education. I knew Upstate would be the perfect fit for me in pursuing my PhD because of the bench experience and collaborations I made here as a technician, and I officially joined the Wojcikiewicz Lab as a PhD student in 2019. My research interests are related to cell biology, Bcl-2 family members, and crosstalk between the ER and mitochondria. After graduation, I hope to continue to do research in regards to cancer and cell biology.
---
Roshanak Ebrahimi
I completed my Bachelor's and Master's Degrees in medical laboratory science and clinical biochemistry, respectively, and worked as a medical laboratory intern in-hospital diagnostic medical laboratories, which helped me keep pace with modern medical laboratory equipment. During my internship, my dream was to bring the knowledge and insight gained through these various experiences to my upcoming university for my Ph.D. degree. To meet my demands as someone interested in biomedical science, I joined SUNY Upstate Medical University in Fall 2021 since it is the pioneer in this field. In the spring of 2022, I found Dr. Auerbach's lab to fit the best for my dissertation work since I admired Dr. Auerbach's research objective as a prominent part of the science of deciphering the underlying electrical disturbances mechanisms in the heart (arrhythmias) and brain (seizures). Understanding the mechanisms for arrhythmias and seizures in genetic ion channelopathies will facilitate the development of novel therapeutic strategies to prevent sudden death in patients with inherited cardiac arrhythmia disease, Long QT Syndrome Type-2 (LQT2). Following graduation, I firmly believe I will make my dreams come true by combining my theoretical knowledge and research background. Out of science, I am interested in professional photography; tourism and art festivals are my other favorites.
---
Hadil Gadelrab
I earned my bachelor's degree in Pharmaceutical Sciences with distinction with honors and my master's degree in Human Genetics from Alexandria University in Egypt. I joined SUNY Upstate in Fall 2021; I am enthusiastic to begin my journey as a second-year Ph.D. student in Dr. Luo's Lab. The lab focuses on nanomedicine, exploring the synthesis of telodendrimers and their diagnostic and therapeutic applications. What I enjoy about the Ph.D. program at Upstate is the structure and the flexibility of the program, and the many sources of advice such as your advisor professor or your mentor student. Regarding Syracuse, it is a city full of parks and amazing green areas, and if you're a fan of natural sceneries, you will enjoy it.
---
Xiaokong (Jensen) Gao
I completed my medical school and earned a medical degree from Central South University. I came to Upstate in 2017 and then joined the Wojcikiewicz lab. My current research focus is the degradation of IP3 receptors by the ubiquitin-proteasome pathway (UPP). I am very interested in the therapeutics for neurodegenerative diseases, cancer and other diseases which are associated with aberrant Ca2+ signaling or abnormal protein processing by the UPP. After graduation, I would like to continue my science journey and help to address some major health challenges.
---
Md Shanewaz Hossan
I am working as a Graduate Assistant at Dr. Juntao Luo's lab in the Pharmacology department. I completed my undergrad and master's degree in microbiology from Jahangirnagar University. Before coming to the US, I was a research officer in the Laboratory of Environmental Health at icddr,b (Bangladesh).
In January 2020 I joined Upstate Medical University for a Ph.D. in biomedical sciences. After a couple of rotations, I got interested in the Luo lab's work on nanoparticles for drug delivery systems. Here, we work on how to design various nanocarrier systems and their applications for current therapeutic development in different diseases. Currently I am working on the systemic delivery of polymyxin b during Gram-negative induced sepsis. In the future I plan to work on drug development against infectious diseases.
I chose Upstate due to its state-of-the-art research facilities, distinguished faculty members, cultural diversity, and welcoming environment. I was also attracted by the beautiful snowfall in Syracuse! I am a big fan of sports and love to play cricket and soccer whenever I can.
---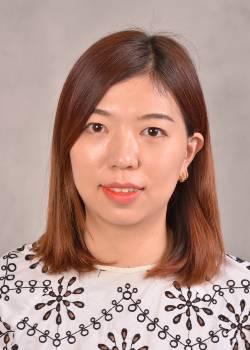 Fanghui Hua
I am in my 6th year of the Ph.D. program in the Pharmacology department under Dr. Richard Wojcikiewicz. My research interests are cellular functions of the protein - lipid interaction, protein degradation, and related cellular signaling pathways. My dissertation is about "the analysis of phosphatidylinositol 3-phosphate binding to the erlin complex". Before coming to Upstate, I received Bachelor and Master Degrees of Medicine and worked as a resident in the hematology department in the hospital of Jiangsu Province in China. It took three years to realize being a physician was not enough to cure the patients, but that understanding the underlying mechanism of the diseases is the ultimate way to help them. I decided to go abroad and study the basic biomedical science; this has led me to Upstate and my current doctoral work. After completion of the program, I aspire to continue to do research in the biomedical field.
---
Himani Joshi
I completed my Bachelor's in Pharmacy in 2014 from Amity University and was awarded the Gold medal for academic excellence. I then pursued Master of Pharmacy in Pharmacology (2014-2016) from Jamia Hamdard. Throughout my Masters' I received Scholarship from All India Council for Technical Education (AICTE), All India GPAT (Graduate Pharmacy Aptitude Test). After completing post-graduation, I worked in National Institute of Cancer Prevention and Research as a trainee. My first job was in the Analytical Department of Dabur Research and Development Centre. I then transitioned to the position of Junior Research Fellow in Regional Centre for Biotechnology (Department of Biotechnology, Govt. of India).
I joined Upstate in Fall 2018 and am currently in Dr. Sheikh's and Dr. Huang's lab. I have always been interested in working in a lab that focuses on translational cancer research, and I want to work on the bench as long as I can. Outside of lab, I love to dance and paint, and I have had 9 years of training in Kathak, which is an Indian classical dance form.
---
Jennifer Messina
I joined Upstate's MD/PhD program in 2019 after completing my bachelor's and master's in Molecular and Cell Biology at the University of Connecticut. After rotating in Dr. Juntao Luo's Lab in both the Summer of 2019 and the Summer of 2020, I joined his lab in June of 2021. As a future physician scientist, I was drawn to Dr. Luo's lab due to the highly translational and collaborative nature of his research designing nanocarriers for immune modulation and drug delivery.
Specifically, I am interested in the design and optimization of telodendrimer nanotrap resin for precise immune modulation in human sepsis. As part of this project, I am also interested in understanding and defining sepsis patient cellular and molecular immune status to determine the appropriate patient population for application of telodendrimer nanotrap hemoperfusion therapy. After earning my MD/PhD at Upstate, I plan to complete a surgical residency and pursue a career in academic medicine as a surgeon scientist.
---
David Popoola
I bagged a bachelor's degree in Biochemistry from Bowen University, Nigeria, in 2014 and a master's degree from the University of Ibadan, Nigeria, in 2018 before joining Upstate in the Fall of 2021. I am in Dr. Yamin Li's lab for my dissertation. We focus on developing cationic lipid nanoparticles for anticancer drug delivery and enhancing antigenic cross-presentation for cancer immunotherapy. Before coming to Upstate, I worked as a music producer and pharmaceutical sales representative. In the future, I want to acquire medical training to inspire benchtop to bedside translation and lead my generation in scientific innovations that vastly improve patient outcomes. Outside study, I love playing the drums, making music, watching Spanish soccer, and establishing meaningful connections.
---
Veronica Singh
I am a graduate student in Dr. David Auerbach's lab in the Pharmacology PhD program. I started at Upstate in Fall 2021. Prior to beginning my graduate journey, I earned my BS in Biology from SUNY Oswego in 2019 where my research focused on the interactions between complement proteins in a bacterial model. After graduating from undergrad, I took two years to teach science to middle schoolers at a Charter School in NYC, which I found to be a fulfilling and invaluable experience. Now, in the Auerbach Lab, I am working on determining the lowest threshold for inducing a seizure in a Long QT Syndrome rabbit model with a long-term goal of mapping out a timeline for the series of events leading up to SUDEP.
---
Rebecca Winkler
My path to research has been exceptionally nontraditional. After being homeschooled K-12, I obtained a B.A. in music from Thomas Edison State College (now University). Then I worked as a typist in medical records for several years. Eventually, I saw this career becoming obsolete and I went back to school for nursing. Unlike many nursing students, however, I found the academics easy but struggled with the hands-on patient care. Thankfully, one of my professors was able to convince me that a switch to research was possible. I contacted Upstate, and was told that if I got some research experience I would have a chance. A lab at Cornell allowed me to volunteer for the experience I needed, and I was thrilled to be accepted to Upstate, my father's alma mater, to start in fall of 2016.
I am currently in Hong Lu's lab studying the regulation and activity of the glucocorticoid receptor in the liver. Eventually my dream is to specialize in bioinformatics and work towards developing a treatment for muscular dystrophy. Upstate is a great school, and I am so grateful to have the opportunity to study here.
---
Xiguang Yang
I earned my bachelor's degree in Minzu University of China in 2015 and my master's degree in University of Pittsburgh in 2017. After one year in industry field, I joined the Ph.D. program in SUNY Upstate Medical University in 2018. Currently I am a fourth year Ph.D. candidate in the Department of Pharmacology, supervised by Prof. Juntao Luo. My research interest is to develop nanomedicine, molecular tools, and devices through fundamental innovation for disease treatments with the goal of clinical translation from bench to bedside. Currently, my research project is to develop nanotechnology-based hydrogel to facilitate chronic wound healing. I also participate in multiple projects such as sepsis treatment. Beyond research, I am a season-dependent outdoor person, i.e. my summer hobby is hiking and riding, and my winter hobby is skiing and snowboarding.
---