From cancer patient to cancer researcher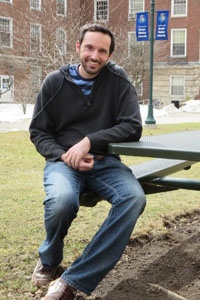 Chris Lucchesi was interested in studying cancer even before he was diagnosed with the disease in high school.
"It fascinates me," Chris said of cancer. "It's the self attacking the self."
Chris pursued that passion at Upstate in the lab of Professor Ying Huang, MD PhD. He earned his PhD in 2015 and is a postdoctoral fellow at the University of California-Davis.
The summer before senior year in high school in northern California, Chris was diagnosed with an esthesioneuroblastoma -- a rare form of cancer that begins in the brain's olfactory area. He spent his senior year of high school undergoing chemotherapy and radiation treatments.
During his doctoral studies at Upstate, Chris focused on a gene linked to esophageal, breast, colon and lung cancers – work he is continuing at UC-Davis.
Here's Chris' summary of his current research:
"Tumor suppressor genes typically encode for proteins that help repress cell division, induce DNA repair mechanisms and can stimulate the apoptotic pathways. The p53 gene is one of the most important and well-studied tumor suppressors.
"Inactivation of p53 has been shown to occur in more than 50 percent of human cancers, and diminished p53 activity is a hallmark of tumor progression. As a result of compromised p53 activity in a vast amount of human cancers, regaining wild type function of p53 remains an attractive option as a therapeutic approach for certain cancers."