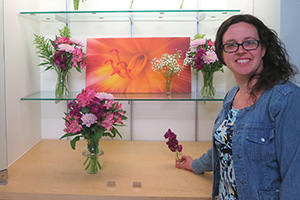 Pharmacology PhD student Becky Winkler can't suppress a smile when she talks about the once-drab display case on the fifth floor of Weiskotten Hall that she has transformed.
"It makes me ridiculously happy," she said.
Becky brings flowers from her own garden, those she receives as gifts, and even the occasional blooms she buys and arranges them on the cabinet's three shelves, replacing them as needed. Photography is another passion, so she'll occasionally add a print of her floral photos to the display.
The bright colors of the arrangements are hard to miss – and much appreciated.
"Becky's appreciation for natural beauty and her displays certainly brighten things up when you step off the fifth floor elevator," said Richard Wojcikiewicz, professor and chair of the Department of Pharmacology. 
The display also puts her in the proper frame of mind before she gets to her bench each day in the lab of Richard Veenstra, PhD, professor of pharmacology.
"I spend a lot of time in a lab with no windows," Becky said, "and there were no windows where I worked in my hospital job. They let me decorate the walls."
Becky grew up on 40 acres in the Southern Tier, as the oldest of seven home-schooled children.
Her path to Upstate includes a bachelor's degree in music, and jobs as a music teacher (classical piano), medical transcriptionist at Schuyler Hospital and an internship in a research lab in Cornell University's veterinary school.
 "That was eye-opening, and so different from what I did before," Becky said of the lab work, which included microscope work and fluorescent staining.
She also loves to bake and cook, and earned her private pilot's license as a teenager when she and her father, James Winkler, MD  – an Upstate College of Medicine Class of 1982 graduate – both took flying lessons.
In the Veenstra lab, Becky hopes to continue previous (and current) lab members' work on why certain molecules in some cancer drugs can be toxic to the heart. She wants to eventually pursue a project associated with muscular dystrophy.
"I love this lab," she said. "It's a really, really good fit."