Our program has always been regarded as a place where friendly and collegial relationships flourish between faculty and house staff.
Pediatric Residency Program Directors
The Department of Pediatrics has brought together a team of committed physicians, educators and mentors to deliver a comprehensive and innovative curriculum that will challenge residents to excel and will address multiple learning styles. This team has developed and will continue to expand the varied and rewarding clinical experiences, the innovative didactic curriculum, an inclusive system for evaluation, and opportunities to develop skills in areas of communication, child advocacy, research, and patient safety. Residents learn from a talented faculty at the bedside, in the classroom, in simulations, and in rich discussions. We are proud of the program and know it will meet the needs of any resident, whether that resident is seeking a career in primary care or looking for an academic position in the subspecialties.
Program Directors
Residency Program Director: Elizabeth Nelsen, MD
Elizabeth Nelsen, MD
Dr. Nelsen grew up on the Westside of Syracuse. She is a graduate of SUNY Upstate Medical University, and completed residency and chief residency at SUNY Upstate as well. She is an associate professor in the Divisions of General Pediatrics and Quality Improvement. She works as a general pediatrician at University Pediatric and Adolescent Center (UPAC). She served as associate program director for the residency program for seven years prior to promotion to program director in September 2019. She serves as the chair of the department's residency committee. Dr. Nelsen's academic focus is on resident education, specifically QI education, curriculum development, evaluation, and supporting faculty in their role as teachers. She is engaged in research examining resident health and well-being and resident remediation practices. She has presented her work at a number of national meetings. In addition to all of the other hats she wears, Dr. Nelsen is currently the inaugural chair of the Program Directors' Section Executive Committee through the Association of Pediatric Program Directors (APPD).
---
Vice Chair for Medical Education: Ann S. Botash, MD
Ann S. Botash, MD
Dr. Botash is from New York and attended medical school at SUNY Upstate Medical University. She was pediatric resident and chief resident at SUNY. In 1991, she became Co-Director of the Pediatric Residency Program, currently she serves as the Vice-Chair for Medical Education in the Department. She also served as our interim chair in 2018-2019. Her clinical expertise is in General Pediatrics and Child Abuse, where she is a national figure. Locally she directs the McMahon/Ryan Child Advocacy Site and nationally serves as the Vice Chair and President Elect of the Helfer Society. She directs the Child Advocacy Training program and training in Systems Based Practice. Nationally she has given numerous presentations and workshops on Child Abuse and developing Child Advocacy Programs and has authored numerous publications on this topic.
---
Associate Residency Program Director: Olamide Ajagbe, MD
Olamide Ajagbe, MD
Dr. Ajagbe is originally from Nigeria where she had most of her formal education including her medical school training at Obafemi Awolowo University. She moved to the US and completed her pediatric residency training at Mount Sinai School of Medicine and Nassau University Medical Center here in NY where she stayed on to serve as Chief Resident. She came to Upstate in 2011 and joined the Pediatric Faculty as one of our pediatric hospitalists. She was the recipient of the 2017 Pediatric Faculty Award which is presented by the pediatric residents. She became our Associate Program Director in 2016. Her areas of clinical expertise are in treating hospitalized children. Her academic interests include medical education, improving communication skills for providers and patient education.
---
Associate Residency Program Director: Heather Wasik, MD
Heather Wasik, MD
Dr. Wasik is our newest associate program director.  She is a pediatric nephrologist who started working here at Upstate in 2019.  She originally from Buffalo, NY. She attended medical school at the University of Pittsburgh and then spent the next six years in Baltimore, MD completing her pediatric residency, a fellowship in Pediatric Nephrology, and her MHS in Clinical Epidemiology at Johns Hopkins.  Her academic work involves medical education, quality improvement initiatives aimed at decreasing complications in patients receiving chronic dialysis, and registry-based research focused on improving outcomes in children with chronic kidney disease.
Assistant Residency Program Director: Winter Berry, DO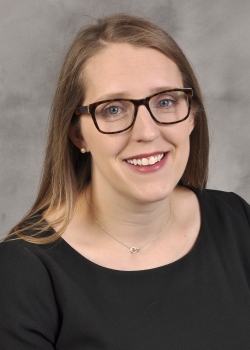 Winter Berry, DO
Dr. Berry is originally from Keene, NH. She came to the upstate New York area for training during medical school and fell in love! She is an associate professor of Pediatrics in the division of General Pediatrics. She is a graduate of University of New England College of Osteopathic Medicine and completed her pediatric residency here at SUNY Upstate. She joined the faculty at Upstate following residency in 2013. Her educational interests include resident continuity clinic, and pediatric ambulatory medical education for all levels of trainees. She is also medical director of Pediatric Grand Rounds. Her clinical and research interests include care of the underserved, specifically on the effects of social determinants and poverty on child health. She is active in advocacy related to underserved populations with special interest in diaper need. She is current President of the American Academy of Pediatrics New York Chapter 1 and is co-chair of the Chapter 1 Advocacy Committee.
---
Residency Program Administrator: Patty Mondore, MA
Patricia Mondore, MA
Ms. Mondore is from the Upstate, New York. She received her BA from Houghton College and her Masters from Syracuse University in Music Education. She taught music (K-12) in a public school for a few years after graduating. In her spare time she is also a prolific writer (nine books currently in print, and a contributing writer for the Thousand Islands Sun newspaper), and a singer/song writer/keyboard player with several music CD's and music videos of her own inspirational songs. She also loves to explore the amazing natural beauty of CNY either by hiking or from her kayak. She has been the Pediatric Residency Administrator here at Upstate since 1990 and is the creator of Patty's Pediatric Page. Patty also uses her writing abilities to edit the Pediatric Crier, the departmental newsletter.
---
Associate Residency Program Coordinator: Aubrey Mariani, MA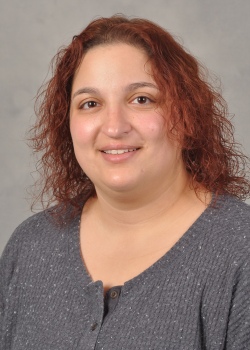 Aubrey Mariani, MA

Ms. Mariani is from Syracuse, New York. She graduated from Syracuse University with a Bachelor of Arts as a double major in Political Science and Psychology and then went on to earn a Master of Arts in Child Advocacy & Policy from Montclair State University. She spent nearly a decade in the nonprofit sector as a caseworker, behavior specialist and care manager. Along with assisting with program coordination for the Pediatric Residency Program, she is the Program Coordinator for the Pediatric Hospital Medicine Fellowship Program. In her spare time Aubrey enjoys travelling, being with family, hiking and activities with her pup Buddy.
---