Pediatric Hospital Medicine Fellowship Team
Fellowship Program Director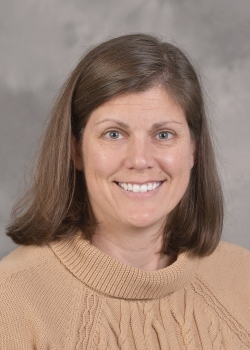 Jennifer Myszewski, DO
Before going into medicine, Dr. Myszewski was a quantitative geneticist for the US Forest Service in Mississippi. She has a Bachelor of Science in Biology from Penn State, a Master's in Forest Resources from the University of Idaho and a Ph.D. in Forestry from Texas A&M. She attended medical school at the Texas College of Osteopathic Medicine, then completed her pediatric residency at Good Samaritan Hospital on Long Island. She worked as a hospitalist for Good Samaritan and Seattle Children's before joining the team at Upstate. In addition to PHM, Dr. Myszewski is the physician champion for the Pediatric Patient Experience Team and a member of the Sim Team. She enjoys spending time outdoors, hiking and working in her garden.
Associate Program Director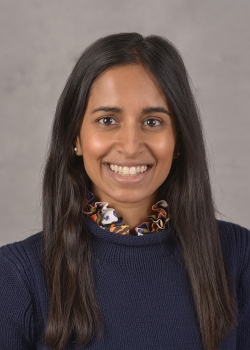 Nusrat Zaman, MD
Originally from Endwell, NY, Dr. Zaman went to undergraduate and medical school at Brown University. She completed a pediatric residency at Jefferson/A.I. DuPont Hospital for Children and then completed a Chief Year as well. She was a pediatric hospitalist attending at Vanderbilt for 3.5 years before returning to Upstate New York with her husband and two children. In addition to PHM, she is also a member on the C.H.O.I.C.E.S. Pediatric Palliative Care team. In her free time, she likes to eat, watch, talk and read about food with her family and friends.
Fellowship Coordinator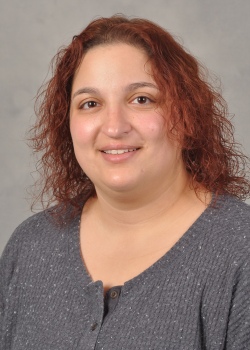 Aubrey Mariani
Ms. Mariani is from Syracuse, New York. She graduated from Syracuse University with a Bachelor of Arts as a double major in Political Science and Psychology and then went on to earn a Master of Arts in Child Advocacy & Policy from Montclair State University. She spent nearly a decade in the nonprofit sector as a caseworker, behavior specialist and care manager. Along with assisting with program coordination for the Pediatric Residency Program, she is the Program Coordinator for the Pediatric Hospital Medicine Fellowship Program. In her spare time Aubrey enjoys travelling, being with family, hiking and activities with her pup Buddy.
PHM Faculty
Olamide Ajagbe, MD
Dr. Ajagbe is an assistant professor, pediatric hospitalist, and associate program director for the pediatrics residency program at Upstate Medical University and Upstate Golisano Children's Hospital in Syracuse, NY. She is originally from Lagos, Nigeria and went to medical school at the Obafemi Awolowo University in Ile-Ife, Osun State in Nigeria. Dr. Ajagbe did her pediatric residency training and chief residency at Nassau University Medical Center in Long Island, NY. She moved to Syracuse after completing her chief residency. Dr. Ajagbe's academic interests include graduate medical education, communication in healthcare, diversity and inclusion in medical education and healthcare equity. She would describe herself as a homebody who really enjoys reading, history, podcasts, gardening and cooking. She also enjoys traveling and discovering new places. Dr. Ajagbe likes to joke that if she hadn't gone to medical school, her alternate careers would have been teaching history or working as an interior designer. She is married and has 3 children and a dog named Mocha.
John Andrake, MD
Dr. Andrake is the Division Director for the Division of Pediatric Hospital Medicine. He attended medical school here at Upstate and stayed on for his Pediatric residency and chief residency. After working in various community settings in both ambulatory and pediatric hospital medicine, he returned to Upstate to join the faculty as a hospitalist. Since returning, he's continued to care for pediatric inpatients, as well as precepting residents and students in the general outpatient setting. He served as the pediatric residency program director here for 21 years and became the PHM division director in 2012. Since then, the division has grown from a 5-person division to a faculty of 12. He has particular interests in systems improvements in hospital medicine, student and resident education, and effective communication.
Kerry Biggs, MD
Dr. Biggs is originally from the New England area and earned her BA from Tufts University in French Language and Literature. Shifting course, she then went on to attend Tufts for medical school. Upon graduating she completed her residency in internal medicine and pediatrics at Baystate Medical Center. Deciding on a change of scenery she then travelled across the county to split her time in internal medicine and pediatrics at Hawaii Permanent Medical Group for several years. There she met her husband. Together they came to SUNY Upstate where she has been a member of the PHM faculty since 2019. When not at work she can be found skiing and biking with her kids.
Ian Dargon, MD
Originally from Boston, MA, Dr. Dargon joined SUNY Upstate as a dual internal medicine and pediatric hospitalist in July 2019 after completing his Internal medicine-pediatric residency training in June 2019 at University of Texas-Houston. He studied biology at Colorado College and investigated kidney allograft rejection at Massachusetts General Hospital as a laboratory technician before embarking on his medical school education at Ross University School of Medicine. Academic interests include medical student and resident education along with incorporating evidence-based practices into his clinical decision making. He enjoys cooking, staying active outdoors, and, most of all, spending time with his two children.
Matt Mittiga, DO
Dr. Mittiga is originally from Northern NY and spent 4 years in the Army before going to undergrad at Utica College. From there he went to medical school at the University of New England College of Osteopathic Medicine, and did his residency here at SUNY Upstate. Dr. Mittiga worked in primary care for a few years before coming back to Upstate to work as a hospitalist. His interests are in clinical care and the relationships between PCPs and hospitalists. Outside of work he lives with his wife and four children, and he is passionate about fly fishing.
Jennifer Nead, MD
Dr. Nead is currently the Medical Student Clerkship Director. She has been a pediatric hospitalist and member of the PHM faculty for the past decade. Dr. Nead received her BS from Cornell University and went on to study medicine right here at SUNY Upstate. She completed her pediatric residency at Hasbro Children's Hospital and completed the first year of fellowship at St. Louis Children's Hospital in Infectious Diseases before tackling a fellowship in Pediatric Hospital Medicine at Texas Children's Hospital. She then returned to SUNY Upstate as a Pediatric Hospitalist. When not working Dr. Nead enjoys spending her free time with her husband and children.
Elizabeth Paulsen, MD
Dr. Paulsen is a New Englander at heart and a Patriots fan. She went to undergrad at Northeastern University where she had the opportunity to work as a medical assistant at a pediatric primary care office for her co-op and fell in love with pediatric medicine. Dr. Paulsen did vaccine research at that office before moving on to do clinical research at Tufts Floating Hospital for Children and Boston Children's Department of Emergency Medicine. She completed medical school at St. George's University and then her pediatric residency at Upstate. She and her husband enjoy traveling, paddle boarding, boating, and hiking with the kids.
Melissa Schafer, MD
From DeWitt, NY. Dr. Schafer has worked as a Pediatric Hospitalist and Internal Medicine Hospitalist at Upstate University Hospital, Upstate Community General Hospital and Golisano Children's Hospital since 2011. She is subspecialty certified in Pediatric Hospital Medicine and she is also the Pediatric Quality Officer. She completed Internal Medicine and Pediatrics training at the University of Rochester after completing her medical school and undergraduate training at SUNY University at Buffalo. She has interests in sepsis, patient safety and quality improvement. She enjoys competitive swimming.
Andrew Osten, MD
Dr. Andrew Osten has been a pediatric hospitalist at Upstate since 2019. He completed his medical school at Tufts University School of Medicine in 2012 and his pediatric residency training in 2015 at Tripler Army Medical Center in Honolulu, HI. He served in the Army as a pediatrician for 7 years including a chief resident year, an academic medicine fellowship (at the University of Hawaii), a deployment, and time as both a general pediatrician and a pediatric hospitalist. Clinically, he has interests in data visualization and harnessing clinical data to inform quality improvement efforts. He also serves as the Medical Director for CDI (Clinical Documentation Improvement) and UM (Utilization Management) for the children's hospital. When not at work, he's probably skiing or riding bikes with his kids.
PHM Nurse Practioners
Erin Blair, NP
Erin grew up in the Mohawk Valley and started her nursing career at St. Elizabeth's College of Nursing in Utica, NY. After graduating she worked on the inpatient pediatric hematology and oncology unit at Upstate while finishing her BSN at Upstate CON. Erin then worked at a children's hospital in CT before returning to CNY to be close to her family. Erin went on to get her PNP at Upstate in 2007 and worked as a PNP in primary care in the community for 10 years before returning to Upstate where she has remained since. In her free time, Erin is a hockey mom who enjoys spending time with her friends and family; especially her 2 teenage sons, Connor & Evan.
Christine Lopez-Dwyer, NP
Christine is the Advanced Practice Manager for the NPs and PAs in Pediatrics. She received her Associates Degree in Nursing from St. Joseph's College of Nursing in Syracuse and her Bachelor's and Master's Degrees in Nursing from SUNY Upstate Medical University. Her nursing career in Pediatrics began here at Upstate. After completing her Master's degree, she moved to Charlotte, NC before returning a couple years later to join the Pediatric Hospitalist Medicine team, where she continues today. She also has an additional Post-Masters Certificate as a Psychiatric Mental Health Nurse Practitioner. A few of her pediatric committee memberships include: Pediatric Behavior Escalation Response Team, Pediatric Quality Committee, Pediatric Patient Experience, and Upstate's Nursing Congress. Outside of work she enjoys reading, planning vacations to sunny locales, and her busiest job of all, being a hockey mom to her 2 children.
Kelly Winchell, NP
Originally from Solvay, NY Kelly completed her BSN at SUNY Brockport in 1999 and started working at Upstate right out of college. She worked as a Pediatric Nurse until she became a Pediatric Nurse Practitioner via Upstate Medical University in 2004. In 2005 Kelly took a position as a Pediatric NP for the Dept of Otolaryngology where she worked until 2018, when she joined the inpatient hospitalists team. Since then, she has helped cover all three hospitalist teams, primarily covering the Pediatric Gold team for the past 2 years. In May of 2021, she completed her Post Master's certificate in the Primary Family Mental Health Nurse Practitioner Program. Kelly currently sits on multiple committees including the Pediatric Behavioral Emergency Committee, Nurse residency, Pediatric Resuscitation committee, and Pediatric Core Classes for new hires. In her free time, you will find her running/training for whatever race she has coming up or baking. If you can't find her, it's likely she is traveling to some new and exciting place.