CNY Regional Perinatal Program
The Central New York Regional Perinatal Program (CNY-RPP) aims to promote healthy outcomes for women and children by ensuring that high risk mothers and their infants have timely access to a continuum of specialized care. Each hospital affiliates with a region and forms a transfer agreement with the Regional Perinatal Center (RPC).
As an affiliate, hospitals receive a number of services from the RPC. The community obstetricians and pediatricians receive consultation and specialized services. The Statewide Perinatal Data System is utilized to capture data on births, NICU admissions and maternal transports. These data are then analyzed and used to improve the quality of care region wide.
Map of the Central New York Region
Below is a map showing the coverage of the Central New York Regional Perinatal Program. The region consists of a 14-county area spanning from St. Lawrence County in the North to Broome and Tioga counties in the South.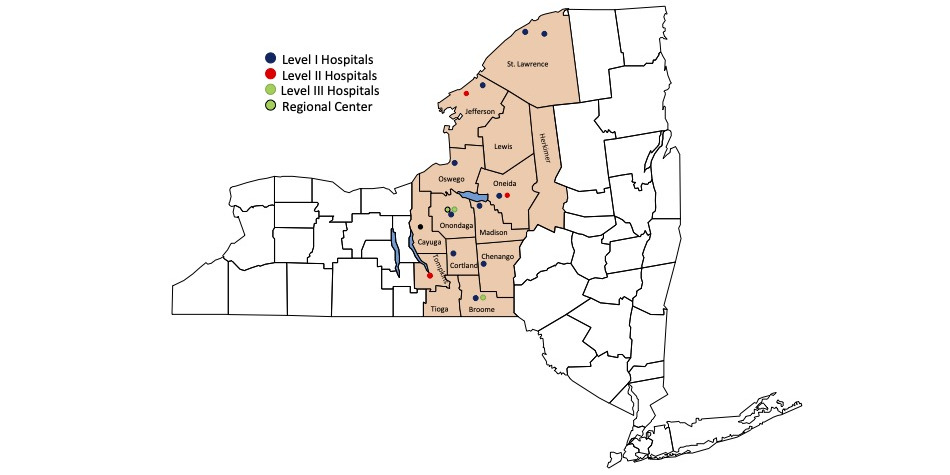 CNY Regional Perinatal Center Protocols
The following is a listing of suggested educational guidelines. For further information about the guidelines, please contact Jennifer Cross, RNC at 315 470-7372.
Obstetric Guidelines
Acoustic Stimulation
Amnioinfusion, Intrapartum
Anti-D (Rh) Immune Globulin Administration
Breech Delivery, Vaginal
Circumcision, Newborn
External Cephalic Version
Group B Strep; Detection & Treatment
HIV Screening, Rapid, Maternal/Fetal
Induction and Augmentation of Labor, inclucing Cervical Ripening
Magnesium Sulfate for Tocolysis
Magnesium Sulfate for Seizure Prophylaxis/Therapy in Preeclampsia/Eclampsia
Monitoring Surveillance, Fetal and Uterine
Operative Vaginal Delivery
Perinatal Center, Transfer of Care to, or Consultation with Premature Rupture of Membranes
Transport, Maternal-Fetal
Vacuum Extraction Delivery
Vaginal Birth After Prior Cesarean Delivery (VBAC)
Nursing Guidelines
Amnio Infusion
Birthing Room Deliveries, Guidelines for Breastfeeding Guidelines
Cardiopulmonary Resuscitation: Adults and Infants
Circumcision: Analgesia and Anesthesia for Fetal and Uterine Monitoring/Surveillance: Antepartal and Intrapartal
Group B Strep: Detection/Treatment and Prevention of Group B Strep Disease
Hearing: Universal Newborn Screening
Hypertensive Disorder: Care of the Obstetrical Patient
Induction and Augmentation of Labor Including Cervical Ripening
Latex Allergy Precautions
Magnesium Sulfate, Continuous InfusionFor Obstetrics
Measles, Mumps and Rubella (MMR) Vaccine
Pain Assessment and Management
Rh Immune Globulin Admninistration
Rubella Vaccine