Clinical research is actively pursued both in the department and with the collaboration of other departments within the medical university. Each resident is expected to become involved with one of the ongoing projects or initiate a new line of investigation with a faculty advisor.
Third- and fourth-year residents present papers on their case studies and research investigations at the annual Senior and Chief Residents' Departmental Scientific Forum, now in its eleventh year. The research rotation with academic, faculty and fellowships tracks, prepare our residents for these pursuits and a career of lifelong learning.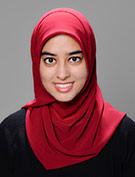 We would like to congratulate our Chief 4th Year resident Tahseen Ismail Ahmed, MD for being awarded top oral presentation for the Upstate Medical University "Beyond the Doctorate Research Day" which was held on March 6, 2019.
Dr Ismail's presentation was titled "An Evaluation of Fascia Lata Versus Placental Specimens for Genetic Testing after Intrauterine Fetal Demise: an Analysis of Success Rates and a Cost of Sampling Compared to Yield."
Congratulations again Dr. Ismail and a big thanks to her mentor Dr. Maureen Burke.
Laboratory Technologists
Carole, Ozark, BS, MT(ASCP)

Related Links