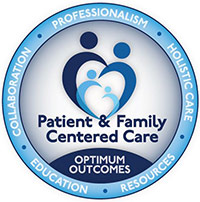 The Upstate Nursing Professional Practice Model establishes the shared values within the department of nursing of professionalism, collaboration, education, resources, holistic care and goal to provide patient and family centered care to achieve optimum outcomes.
Patient and family centered care is our care delivery model in which patients receive individualized care to meet their needs with the patient and family as the key priority of all we do.
Community Campus Locations
Emergency Department
While servicing a large community of patients, we support a population from the central New York region serving 17 counties. Our emergency department is well supported by the inpatient specialty units, i.e., Orthopedics, Physical Medicine & Rehabilitation, Psychiatry, Inpatient Medicine (including Telemetry) and our Intensive Care Unit, all focusing on the special needs of our patients. Our staff works in conjunction with our downtown campus to appropriately triage patients for assessment and admission as necessary.
Downtown Campus Locations
Expand all
Emergency Department - Adult
Emergency Department - Pediatrics
Poison Center
Upstate Triage & Transfer Center