The Magnet Journey for Upstate Nursing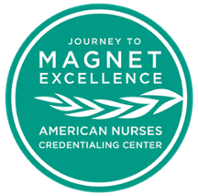 The journey to Magnet for Upstate Nursing has accelerated since 2014. As a result, the American Nurses Credentialing Center (ANCC) accepted the application in spring of 2018. Submission of supporting evidence will occur in October 2019 with an anticipated site survey for initial designation for Upstate in the second half of 2020.
What prompted this acceleration towards achieving the most prestigious recognition for nursing culture and practice environment? Improvements in nursing sensitive quality of care indicators, the ever-increasing number of specialty certified RNs, and an RN turnover rate at Upstate that stands better than the national average shined a very clear bright light on the developing Magnet culture at Upstate.
The potential for successful designation has always been there in Upstate nursing, central New York's largest nursing work force. Our staff RNs in shared governance are leading the efforts of this fantastic, inspiring journey. Nursing leaders across all settings including the Upstate College of Nursing are also helping pave the way. The professional nursing practice model of Patient and Family Centered Care clearly exemplifies Magnet qualities through the independent practice of nursing focus on the goal of improving quality of care for our patients and families while supporting every level of nursing to practice to their full abilities and scope. At Upstate, my hopes are that all nursing staff find interdisciplinary teams that are supported in the daily quest for quality patient care to our region, Upstates' overarching mission.
Be part of this journey with Upstate Nursing!

Nancy E. Page, MSN, RN, NEA-BC
Upstate University Hospitals Chief Nursing Officer