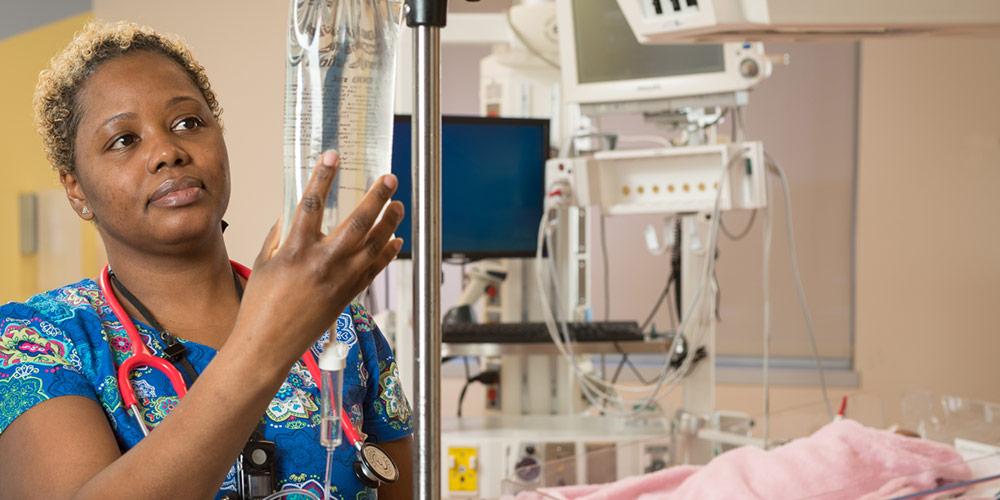 Nursing Excellence Awards
Nursing Leaders acknowledge outstanding employees within the nursing department throughout the year annually at our Nursing Excellence Breakfast, held during nurses' week, at our Nursing Excellence Celebration dinner, hosted typically in fall, and also throughout the year.
Awards
DAISY Award
This award was developed by the family of Patrick Barnes, who wanted to honor his memory and say thank-you to all of the nurses who took care of him during his sudden illness. This international nursing awards program was introduced to Upstate Nursing to recognize the extraordinary work of our nurses who go above and beyond the call of duty to care for our patients and their families. This award recognizes extraordinary nurses including LPNs, RN, and NP's. 
To learn more about the DAISY Foundation visit their website here: https://daisyfoundation.org/
DAISY Leader Award
The DAISY Leader award was brought into our awards program to recognize leaders in nursing who embody the qualities of a transformational leader. Some of the transformational characteristics include a nurse who promotes healthy work environment, encourages others to practice at highest clinical & professional standards, maintains trusting relationships, has optimistic & encouraging outlook.
DAISY Team Award
This international award recognizes the extraordinary inter-professional collaboration required to care for patients and their families. Recipients of this award include nurses, unlicensed nursing staff, physicians, social workers, Environmental Services, Food and Nutrition Services, etc. This award was introduced to Upstate Nursing in 2017 and is sponsored by the Upstate Foundation.
Bee Award
Just as in nature bees are loyal, hardworking, and cannot exist without the daisy, neither can the daisy exist without the bee. The BEE award is complementary to our DAISY Award, and recognizes our un-licensed nursing staff for excellence in nursing support. This homegrown award program has been promoted within the DAISY foundation to their partnering organizations.
William J. Painter Award
William J. Painter was a nurse employed at Upstate University Hospital from 1981-1993 at the time of his death. He was known for his excellence in both clinical practice and nursing management. This award was established to keep his memory alive and to highlight nursing excellence here at Upstate University Hospital. Annually a Clinical and a Managerial Award are given.
Spirit of Nursing Awards
This awards seeks to recognize the extraordinary contributions to nursing practice and the future of nursing. "The spirit of nursing is one of the most indestructible elements in the lives of those who possess it. Like fine steel, it gives form and substance but yet is flexible, it is shining but durable. It is made up of such qualities as courage… with the accompanying characteristic of frankness, fidelity, and sincerity, kindliness, tolerance, courtesy, generosity, compassion, sympathy, and benevolence."
–Mary M. Roberts, RN
Geriatric Specialty Awards
The Geriatric Nursing Excellence Award, developed by the Geriatric Specialty council, recognizes a nurse who has gone above & beyond to bring geriatric specialty care to our older adult patients & community. This nurse encompasses all of our Upstate Nursing values in their clinical practice and care of geriatric patients and their families.
The Excellence in Geriatric Care Award recognizes the excellence in geriatric care of any staff member of the Upstate Medical University Community. This award recipient positively impacts the lives of the older adult and their families.
Pediatric Specialty Awards
The Umeschandra Patil Family Pediatric Endowment Education and Enrichment Award was created to recognize nurses who are caring for children in any setting within Upstate University Hospital to further their training in pediatric nursing. The monies awarded may be utilized towards conferences, travel associated with educational opportunities, to support for attendance in an academic program geared toward pediatrics. It is hoped that through this support nurses will continue a long career of caring for children and their families.