Upstate Online, July 24, 2020
Upstate professor leads team to develop, launch first ECMO Specialist Certification exam
The ECMO machine handles oxygen delivery to the patient's body, allowing a person's lungs to rest and heal. It is being used frequently with severely ill COVID-19 patients.
---
---
---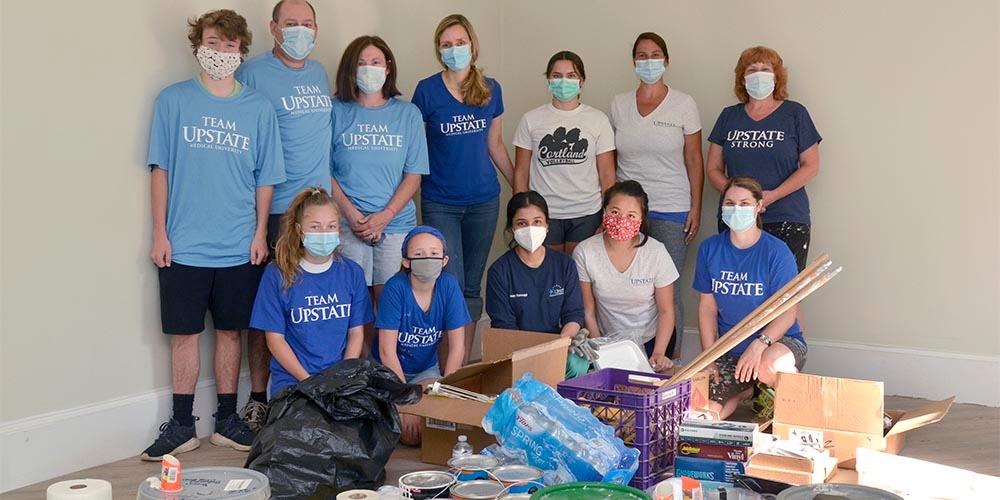 PAINTING FOR OUR YOUR CAUSE CHARITY: Members of the Upstate community and family and friends spent a sultry Saturday painting the Rescue Mission's new Runaway and Homeless Emergency Youth Shelter. Earlier in the week, a group helped clear away brush at the Rescue Mission site. The Rescue Mission is Upstate's Your Cause Charity for 2020 and Upstate is supporting the agency's mission through volunteer efforts and a donation.
BY APPOINTMENT ONLY: Individuals seeking to be tested for COVID at Upstate Medical University's Water Street testing site, 800 E. Water St., are required to make an appointment by calling 315-464-2582, option 0. Testing hours are 8 a.m. to 4 p.m. Monday through Friday, 8 a.m. to 1 p.m. Saturday. The site is closed Sunday. Testing is open to any member of the public who is symptomatic or who has been directed to obtain a test. Results are available usually within 24 to 48 hours after the test.