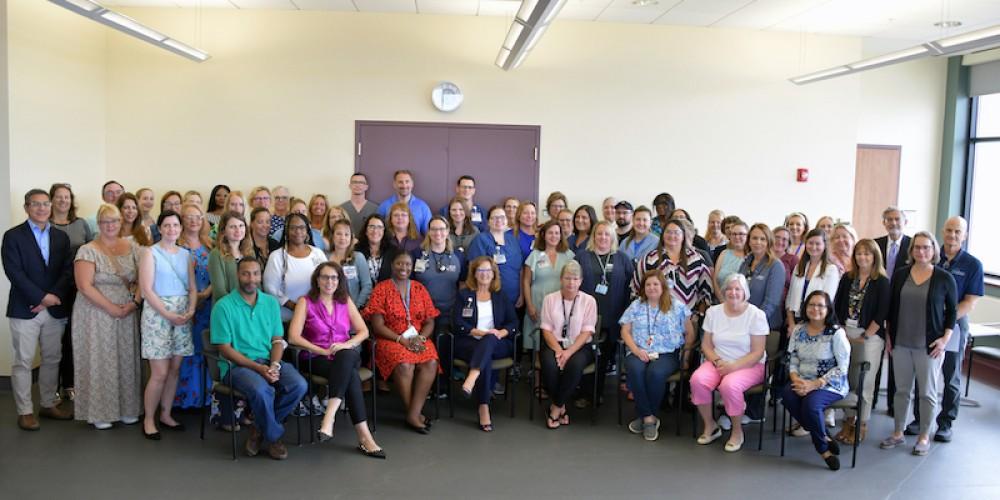 Upstate set to kick off Community Giving Campaign
Fall in Central New York means it's time for Upstate Medical University's Community Giving Campaign to benefit the United Way of CNY and SEFA charities, including funds supported by the Advocates for Upstate, Upstate Alumni funds and the Upstate Foundation. The campaign kicks off Sept. 27
Serving as this year's campaign co-chairs are Lawrence Chin, MD, dean of the Norton College of Medicine and Robert Corona, DO, MBA, CEO of Upstate University Hospital.
Chin and Corona applauded Upstate's past campaign efforts and underscored that community needs, from housing to food insecurity, and mental health, among others, remain in demand. Both agree that the Community Giving Campaign is a wonderful and simple way to help meet these demands.
"Upstate Medical University's Community Giving Campaign provides everyone in the Upstate family with an easy way to help people and causes that matter," said Chin and Corona.  "We are seeing more and more people struggling in numerous ways, and your support makes so much possible."
All employees will receive an email on Sept. 27 with a link to make a pledge. From the link, one can access a list of charities and funds to make a direct donation to the charity of one's choice. Also, the link includes a giving history for each employee.
As in past years, there are giving incentives. Making a pledge through Self Serve qualifies individuals to be included in a daily drawing from Sept. 27 through Oct. 10 for $100.
The complete resource for the Community Giving Campaign can be found at https://www.upstate.edu/communitygiving/.
Campaign Committee members include Zanette Howe, Katherine Beissner, PT, PhD, Mark Congel, Kelly Dolan, Amy Green, Devin Kerr, Katherine Magnarelli, Yowali Singh, Sarah Trapani, Nancy Prott, Meghann Sandak. Four ad hoc committee members are Tammy Blackburn, Leah Caldwell, Rebecca Janowski, and Becca Pesci.
Campaign nursing sub-committee members are Kathleen Berardi, Brenda Dano, Kelly Dolan, JoAnn Featherstone, Tonya Seckner, Yowali Singh, Anne Snowdon.
Linda Veit, MPH, and Nancy Prott will head up gifts for the Hamilton White, Elizabeth Blackwell, and Sarah Loguen societies.