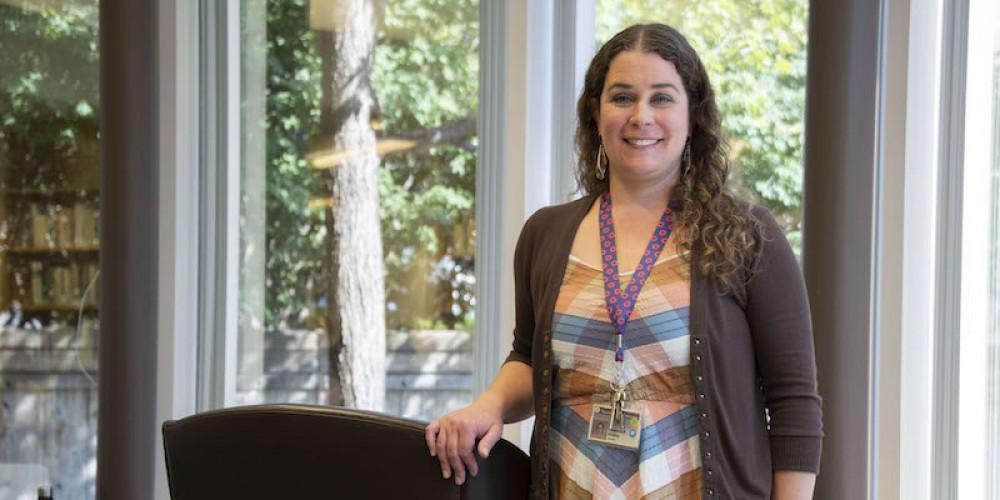 Rebecca Kindon named director of Health Sciences Library
Rebecca H. Kindon, MLIS, AHIP, has been named director of the Upstate Medical University Health Sciences Library, effective immediately, Kindon had served as interim director since March 2023.
Kindon joined the Upstate Health Sciences Library in 2005 as an instruction and outreach librarian. She has served in numerous roles with the library, including as coordinator of library instruction, information resources manager, assistant director for customer services and associate director of libraries.
During her tenure at Upstate, Kindon has restructured the information literacy program; coordinated library instruction to learners in the Colleges of Medicine, Nursing, Health Professions, and Graduate Studies; taught expert searching skills to residents; participated in assessment and strategic planning activities; and coordinated the library's current continuity of service agreement with partnering health sciences libraries across the country.  She has also served on numerous university and faculty committees, including the Faculty Council.
Kindon is active with many professional associations and executive boards. She currently serves on the executive advisory board of the National Network of Libraries of Medicine, Region 7, and the executive board of the Upstate New York and Ontario Chapter of the Medical Library Association, where she is a previous executive chair and the recipient of the 2018 Katy Nesbit Service Award.
Kindon holds a master of library and information degree from Syracuse University and undergraduate degrees from Le Moyne College and Cazenovia College. She resides in Fabius, N.Y., with her spouse John and children Adelina and Abigael.
The Upstate Health Sciences Library is the only medical library in Central New York, attracting users from all across the region and beyond. The library is a sought-after resource for the Upstate community, clinicians, learners, faculty, staff, researchers, patients and families and the public. In addition to its main campus library, the Health Sciences Library also maintains a Family Resource Center in the Upstate Cancer Center, which provides medical and health information resources to patients and families where they receive care. The library regularly holds art exhibitions to highlight student and staff artwork, de-stress events for students, and collaborates with other area libraries to promote wellness.
The Health Sciences Library is a past recipient of Academic Library of the Year honor from the Central New York Library Resource Council.