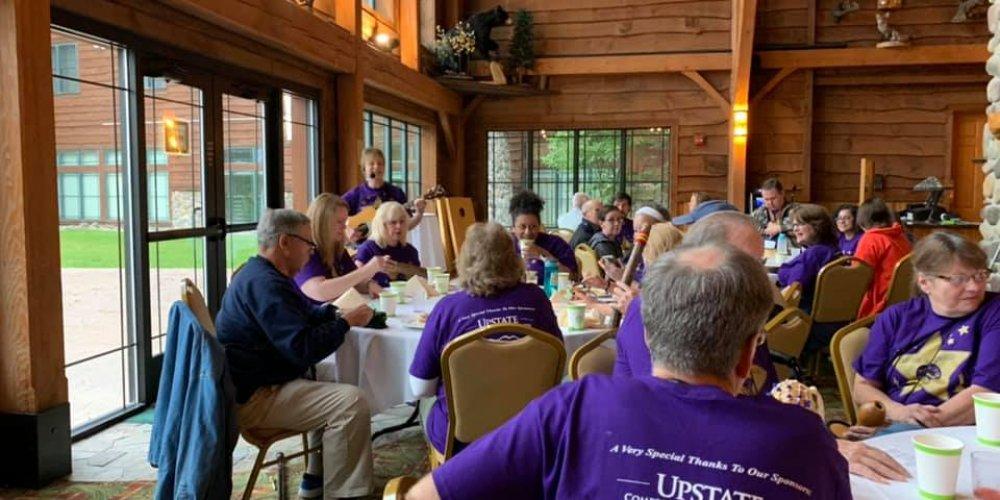 Upstate sponsors summer camp for stroke survivors Aug. 4 to 6
After a break from the Covid pandemic, Upstate University Hospital is once again sponsoring its Stroke Camp Aug. 4 to 6. The getaway this year is in Rushville, N.Y., on Canadaigua Lake.
Camp activities are coordinated by the United Stroke Alliance, based in Illinois, which partners with hospitals across the country to offer Stroke Camp. Activities on tap for the camp include games, educational sessions, hiking entertainment and relaxation and more.
About 35 campers, or stroke survivors, are expected to attend the weekend camp, along with about 15 volunteers, including some from Upstate.
Upstate Occupational Therapist Emily Costello will be among the volunteers from Upstate attending the camp this weekend.
"It's a wonderful opportunity and experience for our campers to simply be themselves," Costello said. "Here, they don't have to worry about anything except enjoying their stay in a very supportive environment."
Josh Onyan, MSN, RN, SCRN, stroke program manager of Upstate's Comprehensive Stroke Center, echoed Costello's sentiments and said the camp also provides an opportunity to get revitalized and reenergized and simply enjoy life. "The camp provides plenty of opportunities for joy and laughter, and sometimes that's the best medicine."
The Retreat & Refresh Stroke Camp was started in the early 2000s by Marylee Nunley, now executive director of the organization, aimed at improving the quality of life for stroke survivors, caregivers, and their families.
Following her husband's stroke in 2001 when he was 55, Nunley read an article about a camp for stroke survivors with aphasia. "After reading that story, I knew I was meant to pursue the dream of having a similar camp in my community. My family has had a lifelong love of camping, so planning and executing the camp wasn't particularly frightening," said Nunley. With help from countless individuals, the first camp was held in 2004.
Nunley's success grew into the creation of a non-profit organization and a national network of stroke camps for survivors and caregivers. To date, more than 250 stroke camps have been held in 25 states across the country.
Campers pay $150 to attend the campus, though an Upstate Foundation Friend in Deed grant and other fundraising efforts have helped underwrite some of the costs of the camp. To support, Upstate's stroke program and sponsor a camper, go here.
The Comprehensive Stroke Center designation reflects the high level of care and treatment Upstate offers for serious stroke events.
Caption: Campers and volunteers enjoy dinner at Stroke Camp, which was held at Greek Peak Mountain Resort in 2019.