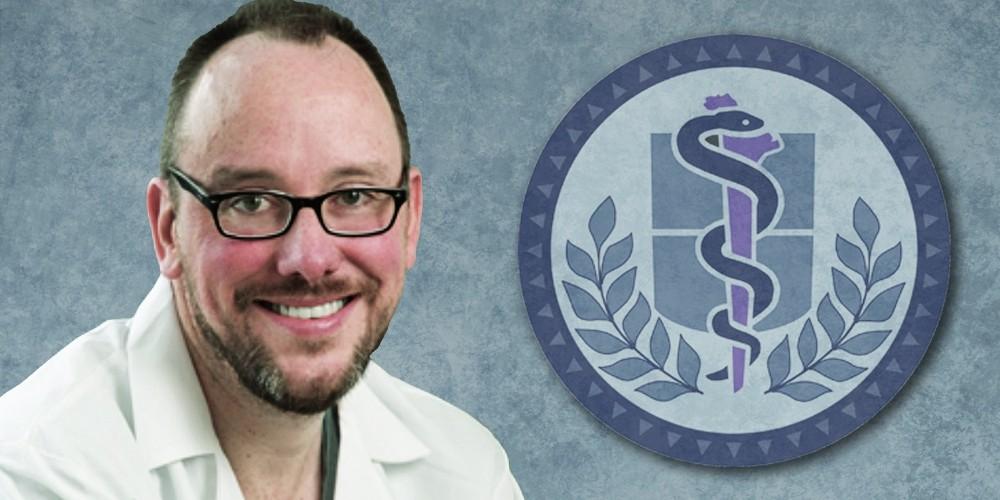 Jonathan P. Miller, MD, to lead Upstate's Department of Neurosurgery
Jonathan P. Miller, MD, professor of neurological surgery at Case Western Reserve University (CWRU), whose expertise includes movement disorders, epilepsy, chronic pain, peripheral nerve disorders, and neural engineering, has been named chair of the Department of Neurosurgery at Upstate Medical University. The appointment, effective Sept. 1, was announced by Lawrence Chin, MD, dean of the Norton College of Medicine.
In addition to his faculty appointment at CWRU, Miller serves in a number of key positions at University Hospitals Cleveland Medical Center, including director of the Functional and Restorative Neurosurgery Center and inaugural George R. and Constance P. Lincoln Endowed Chair. He also has served as vice chair of educational affairs, associate residency program director, and fellowship director for two accredited neurosurgery fellowships (stereotactic/functional and peripheral nerve) within the Department of Neurological Surgery.
"Dr Miller's experience in academic medicine as a clinician, leader and researcher will serve Upstate and its Department of Neurosurgery well as it continues to grow and expand its service area beyond Central New York," Chin said. "I expect his expertise will be shared broadly throughout campus and I look forward to his insight on many issues."
As chair of Neurosurgery, Miller will oversee the clinical services of a multispecialty group featuring more than a dozen clinicians offering advanced care and technologies. He will be directing basic, translational and clinical research aimed at finding new treatments and improved strategies for disorders of the brain and spine. The department is known for its longstanding residency program that has graduated nearly a hundred neurosurgeons since 1966. The department plays a central role in the Upstate Neurological Institute and following Upstate facilities: the region's only adult and pediatric Level-1 trauma center, a dedicated Cancer Center, the Upstate Golisano Children's Hospital, the region's neonatal care units, the region's first Comprehensive Stroke Center and the region's Telestroke Network, supporting stroke care at 12 hospitals across Upstate and Central New York.
Miller has published more than 100 peer-reviewed papers and been honored with numerous awards in recognition of his research and teaching. He has led multiple translational research projects, including studies of brain-computer interfaces, gene therapy for Alzheimer's disease, stem cell implantation for ischemic stroke, and deep brain stimulation for tinnitus, hypertension, memory loss, and epilepsy. He holds several patents related to neuromodulation and recently served as clinical principal investigator and sponsor for the ReHAB (Reconnecting the Hand and Arm to the Brain) clinical trial, a $3 million DOD- and NIH-funded project involving the first ever use of an implanted system to allow brain-controlled reanimation of paralyzed limbs in individuals with quadriplegia.
He is a much sought-after speaker at home and abroad, addressing a myriad of issues including steretotatic and functional neurosurgery, neurostimulation, brain health and concussions in youth, among others. In 2015, he performed the first ever live televised brain surgery, which was broadcast internationally on National Geographic Channel and viewed live by more than 10 million people.
A prolific teacher, he organized and ran the third-year clinical neuroscience course at Case Western Reserve University School of Medicine as part of the clinical curriculum.  He was given the Kaiser Permanente Teaching Award by the medical school class of 2017 and is a three-time recipient of the Golden Apple Teaching Award for the neurosurgery residency at University Hospitals/Case Western Reserve University.
He is a Fellow of the American College of Surgeons and has served on the board of directors of the American Society of Stereotactic and Functional Neurosurgeons, executive council of the AANS/CNS Joint Section on Pain, and Secretary of the Ohio State Neurosurgical Society. He is a member of CAST, the national accreditation committee for neurosurgery fellowships, and Section Editor for the journal Neurosurgery. He is chair of the NIH Brain Injury and Neurovascular Pathologies Study Section and a member of the orthopedic research programmatic panel for the U.S. Army Congressionally Directed Medical Research Program.
Miller earned a bachelor's degree from Yale University and his medical degree from CWRU School of Medicine. He completed his residency in neurosurgical surgery at University Hospitals Cleveland Medical Center/CWRU and fellowship in functional and stereotactic neurosurgery at Oregon Health & Science University. He is a member of medical honor society Alpha Omega Alpha.