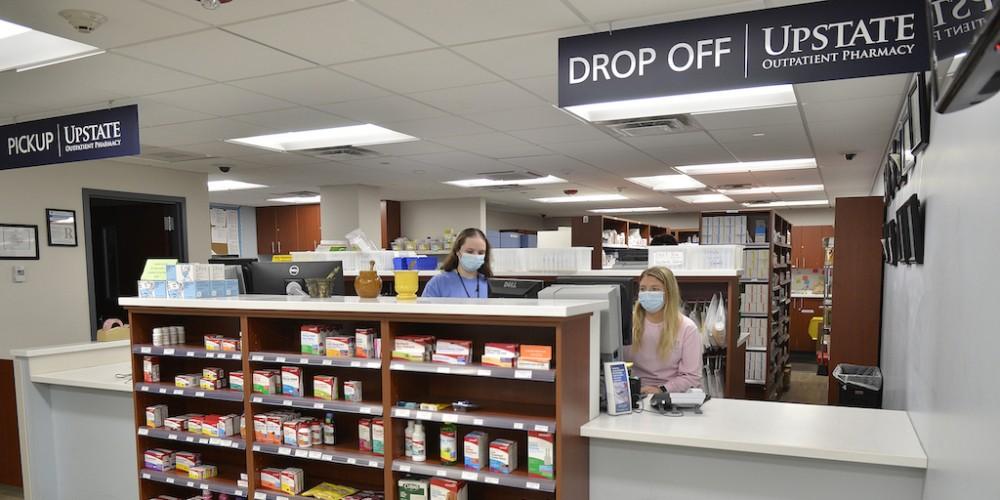 Upstate outpatient pharmacies earn accreditations
Upstate Medical Unveristy's outpatient pharmacies recently earned specialized accreditations from two of the nation's leading independent agencies.
Upstate received the certifications from the Utilization Review Accreditation Commission (URAC) and the Accreditation Commission for Health Care (ACHC) Pharmacy Accreditations, two nonprofit industry leaders in health care accreditations.
SUNY Upstate Outpatient Pharmacy at 750 East Adams St. earned ACHC accreditation for Specialty Pharmacy Services and Durable Medical Equipment, Prosthetics, Orthotics, and Supplies and URAC accredited for Specialty Pharmacy.
SUNY Upstate Outpatient Pharmacy at UCH at 5000 West Seneca Turnpike
Earned ACHC and URAC accreditation for Specialty Pharmacy Services.  
Both are three-year reaccreditations through a full review and inspection process.
Upstate's newest location, the Outpatient Pharmacy at Nappi Wellness Center at 725 East Adams St., earned ACHC accreditation for the first time for Durable Medical Equipment, Prosthetics, Orthotics, and Supplies.
Eamonn J. Murphy, PharmD, BCPS, associate director of Specialty Pharmacy, said these Specialty Pharmacy accreditations increase specialty medication access for patients at Upstate Medical University and through Central New York. They allow for patients to have a local specialty pharmacy that is integrated with their provider's electronic medical record, allowing for quicker turnaround times for patients to receive their specialty medications with the availability to pick up in person or have delivered to their homes.   
"Specialty Pharmacy Accreditations are important for several reasons," Murphy said. "They represent a symbol of excellence for pharmacy organizations and their commitment to quality and accountability. These accreditations demonstrate the pharmacy's commitment to providing the highest-quality service through compliance with national regulations and industry best practices.
"They show that an organization is using evidence-based measures and has developed policies, procedures, and standards for commitment for improving the quality of healthcare. These accreditations reflect an organization's dedication and commitment to meeting standards that facilitate a higher level of performance and patient care."
Caption: The Outpatient Pharmacy at Upstate University Hospital.