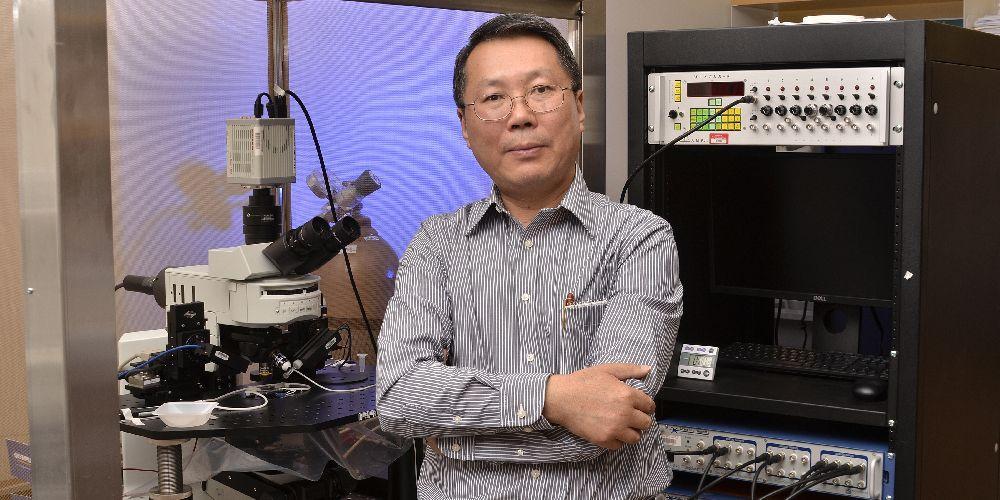 Upstate dementia study gets $2.3M federal grant
Upstate Medical University Professor Wei-Dong Yao, PhD, will use a three-year $2.3 million dollar NIH grant, the first part of a 5-year project, from the National Institute of Aging to investigate the role of specific gene mutations in frontotemporal dementia (FTD). He'll be working with co-investigator Fen-Biao Gao, PhD of the UMass Chan Medical School on the project that aims to shed light on the underlying mechanisms of the disease, which could help develop new therapeutic strategies for those with dementia. Yao is a Distinguished Professor of Psychiatry and Behavioral Sciences and of Neuroscience and Physiology at Upstate.
"We started this project a while ago; I would say almost 10 years, but for a different purpose," says Yao. "We were looking at a molecular pathway that regulates synaptic remodeling and plasticity, and we discovered this gene called CYLD." A mutation of the CYLD gene can lead to the growth of tumors, specifically in the head and neck area. "As neuroscientists, we were mainly interested in neurons and synapses. We published a paper a few years ago (Ma et al., PNAS, 2017) showing that this gene is important in synaptic plasticity."  
A few years later, a research team in Australia linked the CYLD gene to FTD (Dobson-Stone et al., Brain, 2020). This just happened to line up with a side project he was working on with colleagues at the University of Massachusetts studying FTD. "We decided to put a major focus on CYLD as a project to look into how this gene contributes to FTD." FTD is a neurological disease and the second leading cause of dementia after Alzheimer's disease, which affects the frontal temporal lobes - the brain regions involved in controlling behavior, personality, empathy, and judgment. "We wanted to know: how does the mutation of this gene cause this disease? That's the purpose of this grant."  
Yao's work will build off his previous understanding of what the CYLD gene is responsible for. "We have found that this gene contributes to synaptic plasticity by regulating the molecular pathway involved in autophagy," says Yao. "Autophagy is the homeostasis process in cells; basically, cells use this process to maintain their health."  
"What we found was that this gene is using that pathway to control neuronal health and communication; our hypothesis is that an FTD-causing mutation of CYLD would disrupt the ability to maintain the health of the cell and communications between neurons," explains Yao.  
For the next few years, Yao and his team will be engineering this genetic mutation in different mouse models and human induced pluripotent stem cells to see how it impacts neuronal integrity, synaptic function and plasticity, and behavior. He hopes their findings can help bring more understanding to how FTD develops in people with this mutation.  
"The CYLD mutation is very rare, and only very limited families with genetic mutations will have this disease," explains Yao. "But what's important is the pathway that it impacts; this is a major pathway in neurodegeneration. The field has already discovered a dozen to 15 genes that cause FTD, and more than half of those genes affect autophagy. Also, not all autophagy-impairing genes or proteins will cause FTD. There must be some sort of genetic interaction that gives you the risk of developing FTD. Hopefully, by studying this rare mutation gene function, we can have a better understanding of the gene susceptibility network."  
You can read more about the grant and Yao's project here-  
https://reporter.nih.gov/project-details/10680953 
Caption: Upstate's Wei-Dong Yao, PhD, will use a three-year $2.3 million dollar NIH grant to investigate the role of specific gene mutations in frontotemporal dementia (FTD).