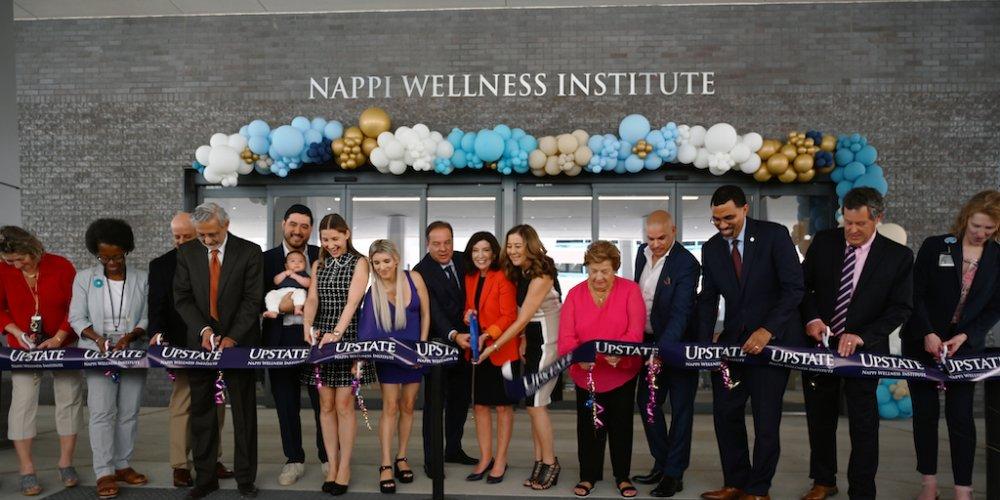 Gov. Hochul joins hundreds in opening the Nappi Wellness Institute
New York Gov. Kathy Hochul joined hundreds of Upstate Medical University employees, honored guests and local politicians Friday to officially open Upstate's newest building, the Nappi Wellness Institute.
Upstate President Mantosh Dewan, MD, opened the ceremony with his remarks and then welcomed to the podium SUNY Chancellor John B. King, Jr., Hochul and benefactor Carol Nappi, who spoke before the group assembled, before using a giant pair of blue handled scissors to cut the ceremonial ribbon.
The five-story, 209,615 square-foot building will be the centerpiece of Upstate's outpatient care, bringing key ambulatory services under one roof. The innovative floor plan features 240 exam and consult rooms with workstations located to facilitate and foster provider interactions.
"This is an important time in Central New York history and growth," said Nappi, a former psychiatric therapist at Community General Hospital which is now part of Upstate. "We are here with gratitude, grace and hope for the future."
Carol and Sam Nappi donated $8 million to the Upstate Foundation, the largest gift in its history, toward the construction of the building with funds specifically targeted for research and treatment of dementia and Alzheimer's within the building. Nappi spoke of her family's commitment to science and healthcare and thanked all of the healthcare workers who have inspired their family's dedication to the cause.
The building allows for the expansion of Upstate's Center of Excellence for Alzheimer's Disease, which has its clinical site within the Department of Geriatrics. Several clinical services will collaborate to enhance the care to these patients including a cognitive neurologist, additional space for neuropsychological testing, physical therapy and convenient space for families to drop off and pick up patients.
Hochul, wearing a bright orange blazer in honor of National Gun Violence Awareness Day, said New York and Upstate were making history with the commitment to Alzheimer's research, taking the first step toward eradicating Alzheimer's with the building's opening.
"This is a place of healing, a place of love and a place of compassion," she said.
New York state contributed $71 million to the construction.
"If it takes a village to raise a child, it takes a state to raise a building this impressive," Dewan said, noting that doors to the Nappi Wellness Instituten open to all, even the most disadvantaged.
"We welcome everybody," he said. 
Caption: New York Gov. Kathy Hochul, center, flanked by Sam and Carol Nappi, cut the ribbon to officially open the Nappi Wellness Institute.