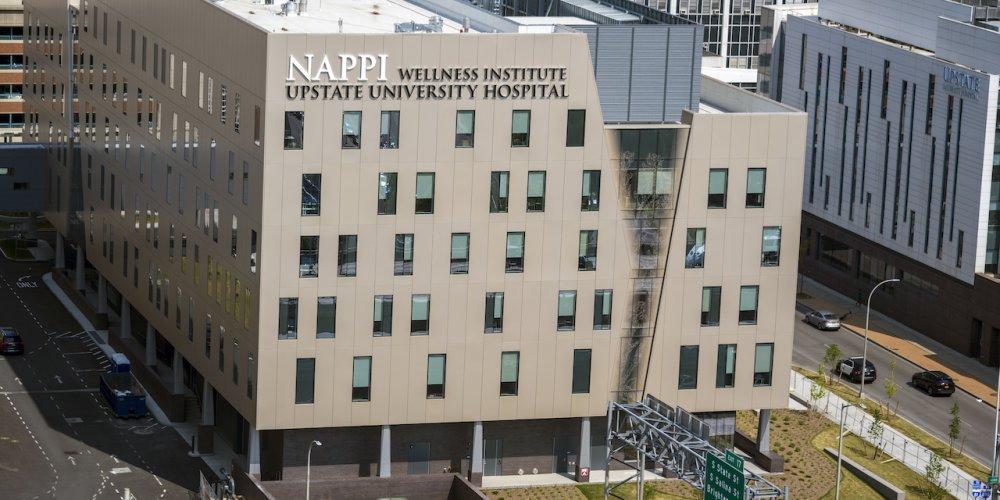 Upstate opens Nappi Wellness Institute
Upstate Medical University will officially open the Nappi Wellness Institute in a ribbon-cutting ceremony Friday, June 2 at noon.
The five-story, 209,615 square foot building will be the centerpiece of Upstate's outpatient care, bringing key ambulatory services under one roof. The innovative floor plan features 240 exam and consult rooms with workstations located to facilitate and foster provider interactions.
The building's unique design features the integration of preventive medicine with an emphasis on wellness. The facility has been built to WELL Building Standards with design features to address air, comfort, fitness, light, mind, nourishment, water, movement, sound and community. Once certified, the Nappi Wellness Institute will be the first WELL certified building in Central New York.
The building is named for Sam and Carol Nappi, whose $8 million gift to the Upstate Foundation is the largest monetary gift in the foundation history.
Patient care in the new building will be rolled out through July, with the first patients being seen June 13.
"The Nappi Wellness Institute is a transformative health care facility that we are proud to have as part of our campus," said Upstate Medical University President Mantosh Dewan, MD. "Wellness is indeed its middle name for healing and wellness is reflected throughout the facility, in its design, in its mechanics, in its operations, in the way our health care professionals work and in the way our patients will be cared for.
"We are grateful to so many who have made this moment a reality," Dewan continued. "To Sam and Carol Nappi for their support, to the hundreds of workers who have spent more than three years—most of that time during the pandemic—building this structure, to our great team here at Upstate for ensuring that this facility is the source of the very best care in our region."
Robert Corona, DO, MBA, CEO of Upstate University Hospital, joined Dewan in echoing the facility's focus on wellness. "The inspiring nature of the Nappi Wellness Institute is the focus on wellness in every aspect of its design and operation—and that benefits our patients and supports our providers," he said.
Upstate's Chief Ambulatory Officer Nancy Daoust, EdD, said the opening of Nappi Wellness Institute is transforming health care. "This facility brings more outpatient clinic space for the entire family to our immediate campus," she said. "But the Nappi Wellness Institute also dramatically changes how we will offer this care, bringing health care providers from various services together to ensure a seamless care experience for our patients."
The Nappi Wellness Institute houses an array of services, practices and programs, including adult and pediatric primary care, geriatrics, radiology, laboratory services, behavioral health, family medicine, pediatrics, the Center for International Health, Inclusive Health Services and the Joslin Center for Diabetes (adults and pediatrics), which has relocated from its East Genesee Street location three miles away. The building also features several supportive ancillary services and Connect Care to ensure seamless post-acute follow-up for patients.
Primary care, behavioral health, specialties, palliative care and social supports will be integrated to reduce fragmentation and promote patient-centered multidisciplinary care in a single location. Primary care and behavioral health providers will share in the care of patients, development of care plans and education of patients and families.
A key feature of the building will be the expansion of Upstate's Center of Excellence for Alzheimer's Disease, which has its clinical site within Geriatrics.  Several clinical services will collaborate to enhance the care to these patients including a cognitive neurologist, additional space for neuropsychological testing, physical therapy and convenient space for families to drop off and pick up patients.
"The Greater Syracuse area has the highest concentration of older adults in New York state, so we are excited to amplify the services we can offer to this expanding population," said SUNY Distinguished Service Professor and Geriatric Medicine Chair Sharon Brangman, MD. "We anticipate that we will see patients with dementia and Alzheimer's disease in greater numbers. This facility will ensure that we have the space to care for patients, consult with families and provide us immediate access to other specialists."
Wellness isn't just the purview of practitioners; the building itself is defined by wellness.
"The goal in pursuing WELL certification for the Nappi Wellness Institute is to create a world class health care facility that promotes the health of all those it serves and those who work there," said Marylin Galimi, Upstate's chief operating officer.
For instance, lighting was a priority of the design ensuring that enough natural light spills into the workplace; acoustical separations have been installed for greater privacy and for sound absorption in different areas; staircases are bright and more colorful with each landing listing the number of steps; and air and water quality will be tested regularly with access to results through QR codes, among other features.
And when the in-house café opens, healthier food options will be the only items on the menu to meet nutritional benchmarks.
Upstate officials say the wellness aspects of the design shows the institution's commitment to the wellness of both patients and staff.
The building boasts generous public spaces and patient waiting areas, a plaza with gardens and a covered traffic circle for ease of dropping off and picking up patients. Bridges connecting the building to the parking garages and Upstate Cancer Center are major features and provide patients and staff with access to Upstate University Hospital and other campus buildings without having to step outside.
The building is located on the corner of Sarah Loguen and East Adams streets, across the street from the Upstate Cancer Center.
Another highlight for the building is art. About 75 pieces of art from more than 50 artists decorate the building, adding a sense of calm and wellbeing and contribute to the healing process, experts say.  See story here.
In addition to the gift from the Nappis, funding for the $158 million project came from a $70.6 million grant as part of the State Department of Health's Capital Restructuring Financing Program and Essential Health Care Provider Support Program. An additional $70.6 million in matching bonds was issued by New York state.
Upstate broke ground on the project in early 2020.
Visit the Nappi Wellness Institute website.