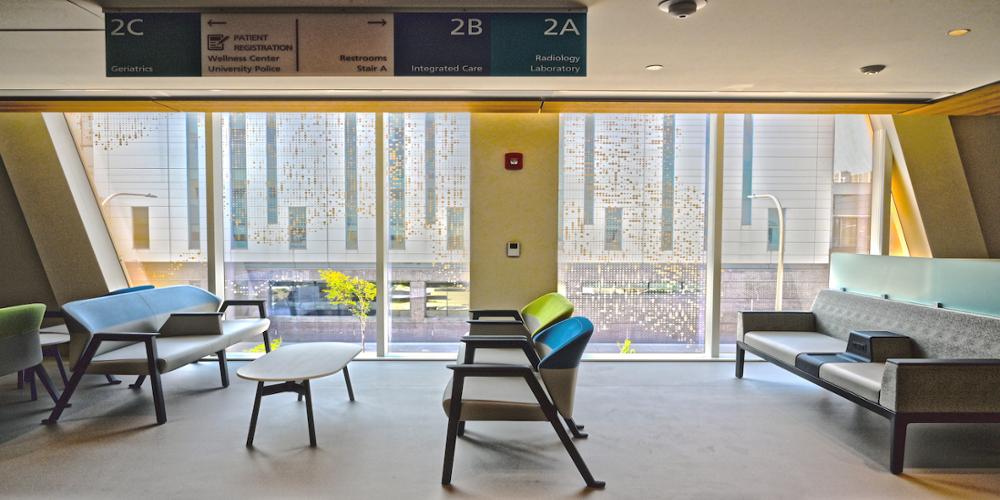 Design elements and operational details highlight the Nappi Wellness Institute's focus on wellness
When Upstate Medical University's Nappi Wellness Institute opens, health and wellness will be baked into its very core, not just for the patients it will serve, but for its health care providers, too.
The Nappi building will be the first building in Central New York and the first health care center in New York to earn a WELL Certification, developed by the International WELL Building Institute.  To achieve this certification, the building must meet certain standards in 10 areas: air, water, nourishment, light, movement, thermal comfort, sound, materials, mind and community. 
The Nappi Wellness Institute is a five-floor, 200,000-square foot outpatient facility that brings together primary and specialty health care to meet the needs of patients, the local community and providers. Ribbon cutting is June 2.
"Our focus is providing health care and creating better environment for people, both physically and the space around them," said Upstate Chief Operating Officer Marylin Galimi. "In doing that, we have obligation to provide the same for our staff. This building gives us the opportunity to create that. It gives us an opportunity to show our commitment to well-being for not just the work we do externally and how we provide it to patients but how we treat our staff."
Galimi credits Upstate's Assistant Dean of Wellness Kaushal Nanavati, MD, a family medicine physician who served on an early focus group on the new building for pushing Upstate to prioritize the wellness of the providers by working for this certification, which at the time was in its infancy.
"He was an ambassador for the importance of keeping a healthy environment, one that fosters positivity and overall well-being," Galimi said.
Nappi's certification is a mix of features designed right into the building by Stantec Architecture and an operational commitment to meet and communicate certain standards.
For example, under the light standard, the building was designed to allow a lot of natural light into the workspaces of staff, overhead lights adjust throughout the day based on human circadian rhythms, and all workstations are outfitted with their own task lights to allow providers to control their own environment.
For thermal comfort, more thermostats were installed so that providers in each zone could adjust them.
"There is an idea in wellness of allowing individuals to control their own environment whether its lighting or temperature control," said Paula Williams, project manager and principal architect. "A lot of buildings built prior to the idea of wellness had one thermostat on the floor set at 68 degrees. If that's good for you great, if not too bad. Wellness tries to put that control back into the occupant."
For sound, acoustic treatments in Nappi go beyond industry standards in terms of sound absorbing materials. Acoustical separation was built into the wall construction to ensure privacy, and sound absorbing materials in strategic locations help listeners to better hear a speaker or presentation.
For movement, the stairs that are exclusively used by staff that run from the ground floor to the top were designed to be much more inviting way. They are wider, brighter and more colorful than a normal staircase. Each landing lists the number of steps in each flight to allow people to track their steps
"It's a little thing you wouldn't think would make a difference, but it's definitely more inviting to go up and down the stairs than in an average building," Galimi said.
The color palette and interior features of the building are meant to mimic nature, which is known to have a calming influence. It features a neutral color palate, photographs of nature scenes and green spaces.
Galimi said due to infection control purposes, they could not put a full garden indoors, but water features and green spaces throughout the building lend to the outdoorsy feeling. There is a garden outdoors, and Galimi said even the outdoor concrete features were designed creatively to reflect a more natural habitat. 
Beyond the features built into the construction, Upstate has committed to meeting many criteria operationally. For example, water quality will be tested regularly with QR codes at each water fountain with a link to the results. Air quality will also be tested and results posted. In the café, which will open at a later date, everything from the type of food served to the way it is displayed will be considered to meet the nutritional benchmarks.
Galimi said the building is currently on track for a Silver WELL designation, which is the equivalent of 50 points out of 100 possible points. The final WELL award will take place late in 2023 or early 2024 and the process involves submitting documentation as well as site visits to inspect the performance of the systems, analysis of findings and reporting. 
Galimi said Nappi is only the start when it comes to Upstate's focus on wellness.
"I think the most important part is to highlight that it's not just the building," she said. "This is a good way of saying we are committed to the wellness for our staff, and of course our patients. And the intent is to continue to expand that wellness priority throughout the organization."
Caption: Floor to ceiling windows allow for the presence of natural light through the Nappi Wellness Center.