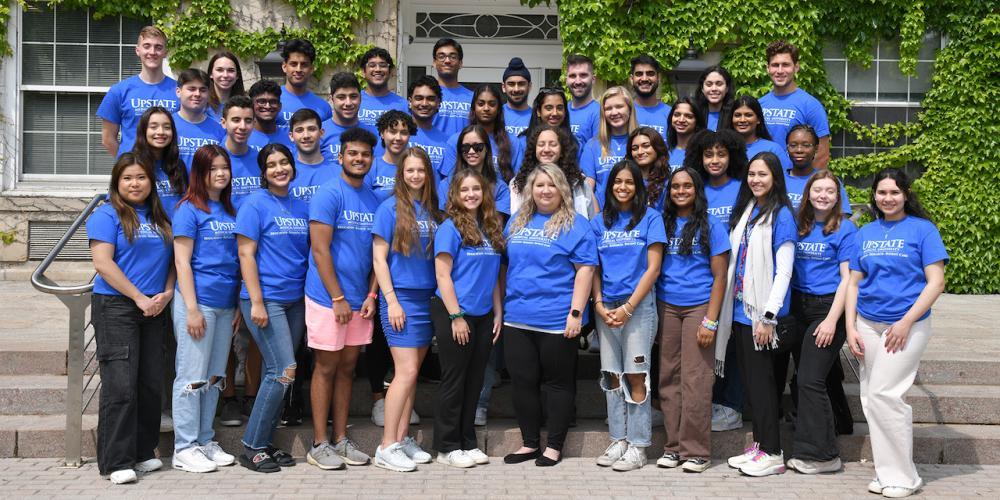 Students in Upstate's Accelerated Scholars Program get early feel for campus
Thirty-six students who have been accepted into the Norton College of Medicine through the Upstate's Accelerated Scholars Program (UAS) are on campus to participate in an orientation program that will prepare them for their academic journey as medical students.
The six-day program, which began May 22, is designed to give attendees an early glimpse of Upstate and medical education. The agenda is chockfull of team-building exercises, off-campus excursions as well as in-depth sessions on clinical skills, anatomy and other topics.
"The summer program is designed for students to get a greater feel for campus, establish and strengthen their relationships with other UAS students from the different partner schools, and get an overview of Upstate Medical University," said Candice Gentile, program coordinator. "It's a way for students to strengthen their connection with Upstate and prepare them for medical school as they go through their undergraduate experience."
Launched in 2018, the program is designed for students who wish to apply to both an undergraduate institution and medical school simultaneously. Doing so saves time, stress, and money by eliminating the need to apply to multiple medical schools and take the medical college admission test (MCAT). The program also allows undergraduates to explore a diverse undergraduate course load without worrying about focusing on pre-med requirements, and it builds community and connection among participants through summer programming while they are undergraduates.
High school seniors can enter the program through Adelphi University, Albany College of Pharmacy and Health Sciences (ACPHS), Hampton University, Purchase College, Rochester Institute of Technology, SUNY Polytechnic Institute, SUNY College of Environmental Science and Forestry (ESF), Spelman College, Syracuse University, University at Albany and Yeshiva University.
High school students apply for the program when they apply to one of the partner schools. Once the students are accepted as an undergraduate, the partner school then determines if the students will be recommended for an interview for an Upstate Accelerated Scholar slot. The path is similar for college freshmen and sophomores. 
College freshmen can enter from Binghamton University, Colgate University and Hamilton College, and sophomores can enter through Bard College at Simon's Rock.
The UAS program is proving to be a success. Twenty-one students have been accepted through the program for Fall 2023, 29 for Fall 2023 and about 40 for 2025.
Caption: Some students participating in Upstate's Accelerated Scholars Program are on campus for an orientation session.