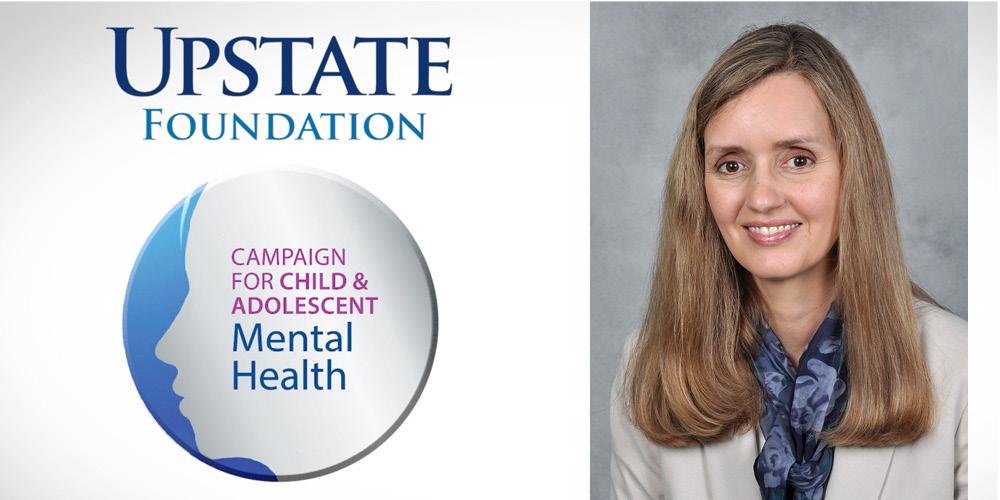 Upstate Foundation's Campaign for Child and Adolescent Mental Health: A focus on eating disorders
Mental Health Awareness Month is an opportunity to shine a spotlight on Upstate's Eating Disorder Clinic, one of the pillar programs prioritized as a critical need in the Upstate Foundation's Campaign for Child and Adolescent Mental Health. According to the National Institute of Mental Health, eating disorders are serious and sometimes fatal illnesses that cause severe disturbances to a person's eating behaviors. Obsessions with food, body weight and shape may also signal an eating disorder.
"We were advised that rates and severity of eating disorders in adolescents spiked dramatically during the Covid pandemic, with the rate of hospitalization at Upstate Golisano Children's Hospital more than doubling," said Eileen Pezzi, vice president for development at Upstate Medical University. "With many patients and families finding that their insurance will not cover life-changing treatment, or that specialists in this area have long waiting lists, leaving families with no local options for outpatient care, support, and prevention, the Upstate Foundation recognized the need to support this cause within our campaign."
Karen Teelin, MD, director of adolescent medicine at Upstate, explained that prompt treatment for these serious, chronic, and often misunderstood illnesses is essential for the best outcomes. "Eating disorders are common, are increasing in prevalence, and may affect children and adolescents of any age, weight, gender and background. The positive news is that recovery is possible with specialized therapy, and support within the hospital and after hospitalization."
Caitlyn, a former patient of Teelin's and Davia Moss, FNP, is a high school junior diagnosed with anorexia nervosa at the age of 16. "Just a year ago, I was depressed, anxious and felt completely defeated. A happy child who always enjoyed all kinds of food, I was petrified of eating because in my mind, eating was destroying an impossible standard I had to achieve. At that point, I hated myself. As my weight continued to decrease, my mental health issues increased."
An annual physical was a rock-bottom moment for Caitlyn and her family. After months of Caitlyn's denials that anything was wrong, the downward trajectory of Caitlyn's weight made it impossible to ignore the seriousness of the illness. She was admitted to Upstate's Eating Disorder Clinic, where she started intensive therapy and worked with a dietician.
"Walking into the clinic, I felt supported. I did not feel defined by my illness. I was just another teenager who was trying to figure things out. I knew recovery would be a difficult journey but I could finally look at my future with hope," Caitlyn said.
A year later, Caitlyn isn't just surviving, she is thriving. She is junior class president, has a lead in the musical, and is a tri-season runner. And she feels extremely fortunate to have received treatment when she did.
"A little over a year ago, I was a broken kid struggling to survive," she admitted. "I hope that sharing my story will inspire other kids trying to overcome an eating disorder that recovery is possible with the right treatment and the best people supporting you. That is exactly what I found at Upstate's Eating Disorder Clinic."
Upstate faculty and staff can support the Child and Adolescent Mental Health Fund through Power of Us, the Upstate Foundation's employee giving program. To learn more about making gift, visit https://www.upstatefoundation.org/employeegiving.
Caption: Karen Teelin, MD, MSEd, FAAP, director of adolescent medicine, Upstate Medical University