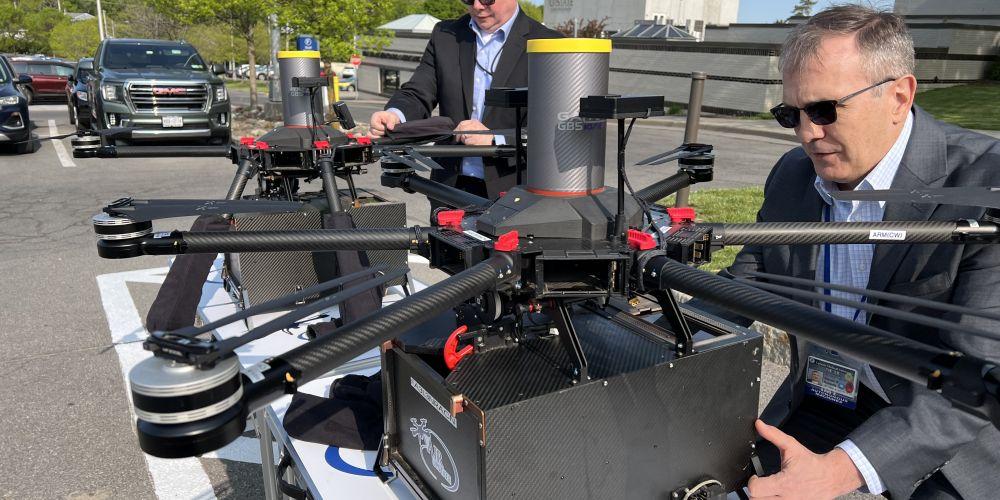 Upstate uses drones to deliver medications to campus for Meds to Beds program
Upstate University Hospital introduced one element of its growing drone program this week flying medications from the Outpatient Pharmacy on E. Seneca Turnpike to its Community Hospital campus.
Upstate officials gathered on the Community campus Monday to watch the drone demonstration.
The drone program is part of the larger program called the Upstate Medical Autonomous Machines Program that includes the robots presently operating in University Hospital, Community Hospital and Golisano Children's hospital.  The drones and robots are being developed to operate by communicating and transferring payloads directly.
The medication drone delivery program is being used for the hospital's the Meds to Beds program that provides medications to patients prior to discharge, eliminating the need to stop at a separate pharmacy to retrieve medication. The program is aimed at reducing readmissions. 
How it works
The medication orders are sent to the Outpatient Pharmacy, which then fills the prescriptions and secures them into a delivery bag that is placed inside the drone's cargo hold. The drone then flies at about 30 miles per hour at 240 feet in the air, bypassing vehicle traffic. Within minutes of the launch, the drone hovers over a designated area outside the hospital and lowers its medication delivery in a yellow bag where it is retrieved by a technician.
This short flight is just an example of what the drone medication delivery can do, said hospital CEO Robert Corona, MD, MBA. "The hospital already delivers medications to a nearby residence for housing vulnerable individuals, and is assessing a program for delivery of medications by drone to nearby residents. We are look to expand this program, especially as technology advances."
Corona said Upstate may use drones for medication, specimen and supply delivery when the Upstate Cancer Center in Verona opens, which is expected to open later this year. The Verona center is located about 40 miles from Syracuse. 
"We're also looking at international drone travel as part of our collaborative relationship with Kingston Health Sciences Center in Ontario," Corona said. "As the technology advances, so will this program."
Upstate's drone operator, Causey Aviation Unmanned, is only the fifth operator in the United States to obtain a part 135 certificate to provide deliveries for healthcare and operates under FAA regulations.
Caption: Steve Roberts, Upstate director of Autonomous Machines, inspects a drone that is used in Upstate's Meds to Beds drone delivery program.