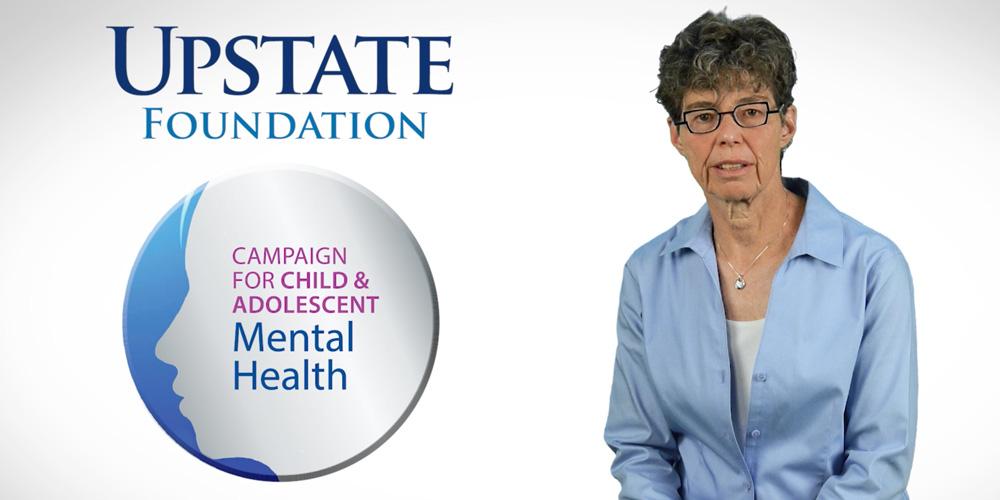 Upstate Foundation announces campaign for child and adolescent mental health
The mental health of children and adolescents has become so concerning that it has been declared a national emergency by the American Academy of Pediatrics, American Academy of Child and Adolescent Psychiatry and the Children's Hospital Association. The U.S. Surgeon General is imploring communities to enhance and grow community-level health programs for children. Upstate is answering that urgent call to action.
The Upstate Foundation, in conjunction with Upstate Medical University, Upstate Golisano Children's Hospital, Upstate Department of Psychiatry and Elmcrest Children's Center, has embarked on a collaborative response to this national and local emergency. The campaign for child and adolescent mental health will support several programs that address the overarching issue – pediatric mental health providers cannot keep up with the needs of children and families because the current demand is simply too great. The announcement was made by Eileen Pezzi, vice president for development at Upstate.
"We're formally launching our campaign for child and adolescent mental health in conjunction with Mental Health Awareness Month," Pezzi said. "Mental Health Awareness Month was founded by the National Association of Mental Health—now known as Mental Health America—in 1949 to raise awareness and educate the public about mental illness and the stigmas surrounding mental health. More than seven decades later, a focus on mental health awareness in the month of May has even greater significance, and we think it is the most appropriate time to kick off this critical and highly collaborative initiative." 
Wanda Fremont, MD, professor in Upstate's Department of Psychiatry and campaign chair, provided context to the current crisis. "In the years leading up to the Covid-19 pandemic, workforce shortages in mental health, stigma attached to a diagnosis, and limited insurance coverage contributed to a declining capacity to deliver services to children and families in states of desperation. The pandemic worsened the situation, highlighting glaring limitations as youth mental health needs continue to increase at a rapid rate."
The focus on youth mental health has reached a critical point at Upstate Medical University as more families are turning to the emergency department for help and more children are being admitted and boarded at Upstate Children's Hospital for days and weeks until the appropriate programs are found.
Gregory Conners, MD, Upstate chair of pediatrics and executive director of the Upstate Golisano Children's Hospital, said that the fundraising campaign will help expand staffing in specialty areas and the availability of treatment pathways. "Several needs that have risen to the top of the priority list include increasing the number of inpatient psychiatric beds, crisis services for aggressive and suicidal children, and the availability of outpatient psychiatry appointments, especially nights and weekends."
As Mental Health Awareness Month shines a spotlight on the expansive and complex youth mental health needs in the CNY community, there is hope.  Fremont is quick to point out that the comprehensive fundraising initiative is making it possible to take steps forward in terms of staffing, program support, and most importantly, providing care to children and families more quickly, vital in ensuring the best possible health outcomes. Click here to learn more about the youth mental health crisis or to support the campaign.