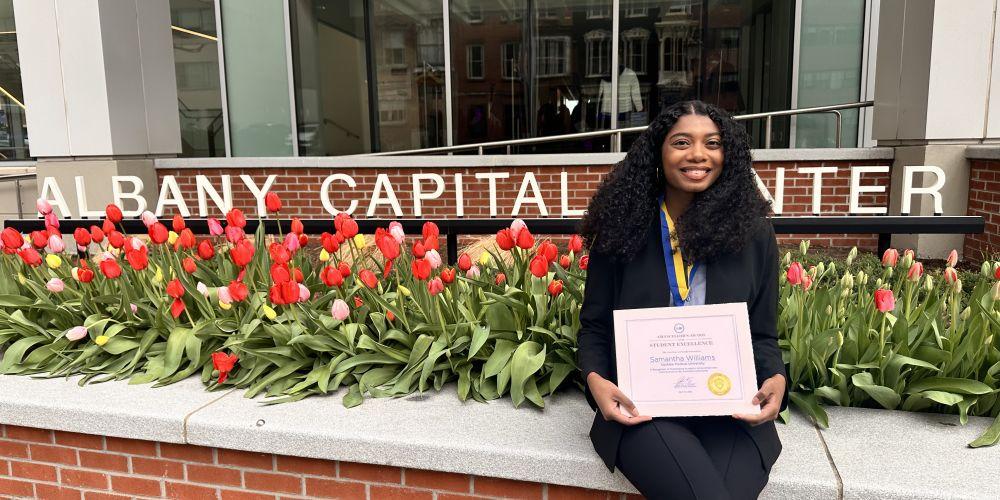 Upstate student receives SUNY's highest academic honor
Samantha Williams, who will earn her medical degree in May from the Norton College of Medicine, has received SUNY's highest honor for academic excellence and leadership.
The Syracuse-born Williams was presented with the 2023 Chancellor's Award for Student Excellence in ceremony on April 24 in Albany.
"It is an honor to receive the SUNY Chancellor's Award for Student Excellence," Williams said. Over the past four years, my home institution has provided me the space to integrate my creativity throughout medical school to create better relations with the communities we serve. I strive to improve the health of historically neglected populations through leadership and advocacy, and receiving this award only motivates me further to continue my efforts as a physician."
Williams said her ability as a medical student to address structures of medicine that may be impediments to care, such as gender bias, was noteworthy. "I would have productive discussions with teaching faculty about various aspects of medicine that could be improved for marginalized populations," she said. "The physicians were always so accepting of my insights. These interactions were key to shaping my understanding of the type of physician I want to be, and I will always be open to learning from the generations that follow me."
Williams completed her undergraduate degree at Union College as a part of its Scholars Program. Prior to medical school, she completed a post-baccalaureate at the University at Buffalo. This year, she matched at Northwell at Phelps Hospital in Sleepy Hollow, N.Y. and will pursue a career in family medicine.
Williams says many helped in her journey toward her MD, especially her brother, who will graduate with his medical degree from Howard College of Medicine this May.