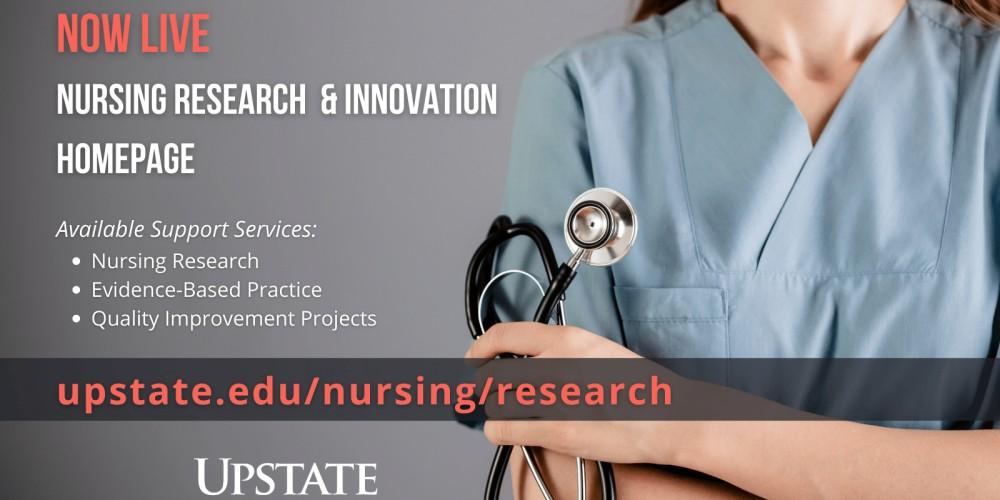 Upstate launches new webpage dedicated to helping nurses lead and conduct research
Upstate Medical University has launched a new website that contains a virtual toolkit for all things nursing research, evidence-based practice (EBP), and quality improvement projects. The effort is led by Jolene Kittle, PhD RN; Upstate's nurse scientist who is working to encourage and support nurses and any staff that may have an idea for a study or project. Kittle filled a vacant post and is making strides in expanding the definition of researcher at Upstate to include more voices. Emery House, MSN, RN, CMSRN, CCRN, will be the nurse research program manager leading the EBP projects.
Kittle says there's been a lot of interest from nursing and staff about creating projects with her help since she took on the role of nurse scientist. "I wasn't sure what I was going to find out; it's been tough since COVID, I wasn't sure if everyone was going to be wary of taking on anything extra but really, I think people are hungry for something new and different and exciting.
"I think there's just a general lack of understanding about the differences between Research, EBP, and quality improvement," said Kittle. "People really want the information, they want the education, they want to know how to get started and they're excited to actually dive in and do the work."
Kittle says there are workshops in development; events to educate interested researchers on the specific steps of their projects to help guide them through the process.
Check out the website here, or contact Jolene Kittle at KittleJ@upstate.edu or Emery House at houseem@upstate.edu with questions.
The virtual toolkit website can be found here.