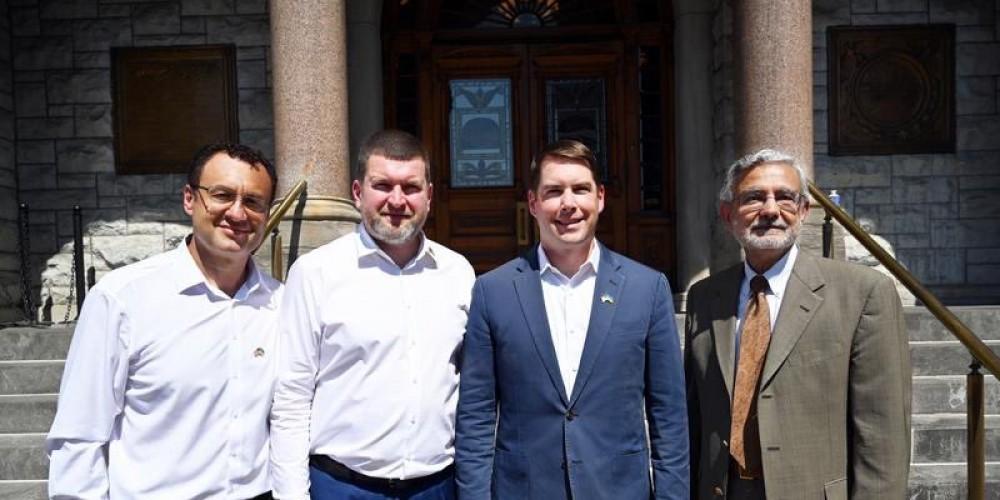 Upstate's Bratslavsky plays key role in Irpin, Ukraine, becoming Syracuse's sister city
Upstate Medical University officials were front center with Syracuse City officials last week, when Mayor Ben Walsh and Mayor Oleksandr Markushyn of Irpin, Ukraine, officially announce their union as Sister Cities.
Irpin, located in the Kyiv Oblast, was one of the first Ukrainian cities to be destroyed and liberated.
Putting Upstate on the map with its Ukraine connections is Gennady Bratslavsky, the Dr. Phillip Capozzi, MD, Endowed Professorship in Urology. Bratslavksy also serves as chair of Urology.
Bratslavsky, who immigrated from Ukraine 30 years ago, visited Ukraine in April 2022, where he teamed with friends and associates to bring medical supplies to the war-torn country.
Bratslavky's visit to Ukraine included delivering supplies to Irpin, Ukraine, from others with Ukraine connections who wanted to help. He was making things happen for people on many fronts.
When he returned from Ukraine, it's reported that Bratslavky floated the idea that Irpin should be a sister city with Syracuse. The next move was meeting with Syracuse's mayor Walsh and it all came together.
Read more here: How a leopard-print suitcase from a man named Boris united Syracuse and a war-torn Ukrainian city; 
Caption: Celebrating Syracuse's Sister City with Irpin, Ukraine, are from left, Gennady Bratslasky, MD; Mayor Oleksandr Markushyn of Irpin, Urkaine, Syracuse Mayor Ben Walsh, and Upstate President Mantosh Dewan, MD.