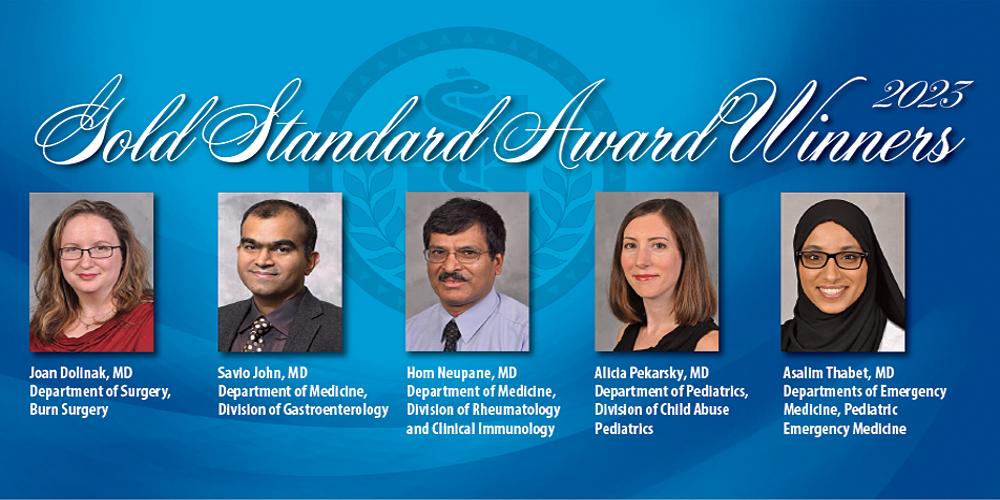 Five named as Gold Standard Award winners
Five Upstate Medical University faculty members have been named as 2023 Gold Standard Award winners.
The awards recognize faculty for "work exemplifying the missions of Upstate, with particular emphasis on professionalism, work ethic and character."
The awards were presented by the Office of Faculty Affairs and Faculty Development during the Celebration of the Faculty, held March 28 in the Academic Building.
"These Gold Standard Award winners are unsung heroes," said Ann S. Botash, MD, senior associate dean for faculty affairs and faculty development. "They are role models in their fields  and support the work of their colleagues, students and others, as well as the Upstate mission."
Winners are selected from nominations from faculty peers.
This year's Gold Standard Award winners are:
Joan Dolinak, MD, Department of Surgery, Burn Surgery 
Savio John, MD, Department of Medicine, Division of Gastroenterology
Hom Neupane, MD, Department of Medicine, Division of Rheumatology and Clinical Immunology 
Alicia Pekarsky, MD, Department of Pediatrics, Division of Child Abuse Pediatrics
Asalim Thabet, MD, Departments of Emergency Medicine, Pediatric Emergency Medicine