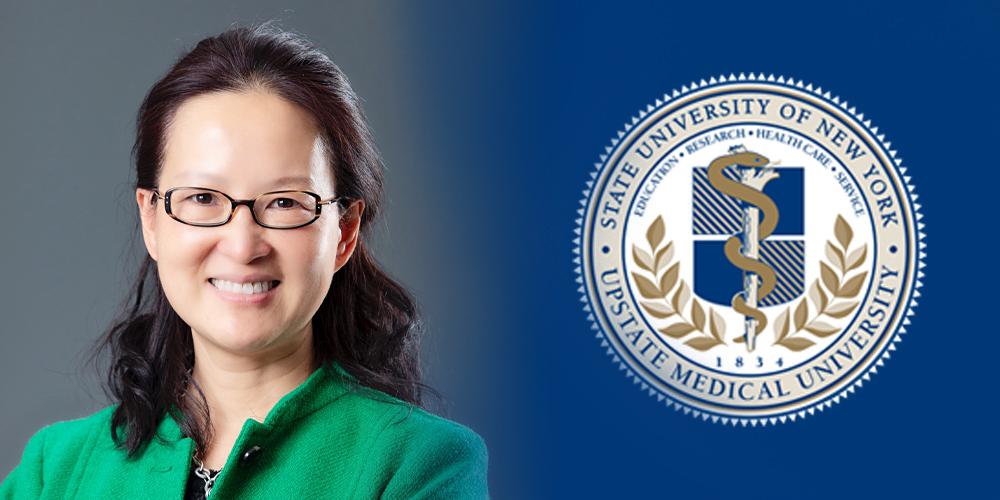 Dartmouth physician named chair of Department of Medicine
Cynthia C. Taub, MD, MBA, Chief of Cardiovascular Medicine of Dartmouth Health's Heart and Vascular Center at Dartmouth Hitchcock Medical Center, Professor of Medicine at the Geisel School of Medicine at Dartmouth, has been named the Edward C. Reifenstein Professor of Medicine and Chair of the Department of Medicine at Upstate Medical University.
The appointment, effective August 2023, was announced by Norton College of Medicine Dean Lawrence Chin, MD.
"We are pleased to welcome Dr. Taub to Upstate," said Chin. "Her proven excellence in clinical care, research and education will be instrumental to advancing our vital missions at the Norton College of Medicine, and her leadership will inspire a new generation of students as they shape the future of healthcare."
As chair of the Department of Medicine, Taub will oversee the largest clinical, research, and education department at Upstate. The 12 divisions that comprise medicine have made advances that help with both common and rare conditions and reach underserved communities across 16 counties in Central New York. The divisions are: General Internal Medicine; Cardiology; Dermatology; Endocrinology, Diabetes and Metabolism; Gastroenterology; Hematology/Oncology; Hospitalist Medicine; Infectious Disease; Nephrology; Clinical Pharmacology; Pulmonary/Critical Care; and Rheumatology.
Taub has served in a variety of leadership positions, including as Director of Non-Invasive Cardiology, Section Head of Non-Invasive Cardiology and Cardiovascular Imaging, and, most recently, Chief of Cardiovascular Medicine. In addition to Dartmouth, she has held faculty positions at Albert Einstein College of Medicine and the University of Connecticut.
Taub is known internationally for her work in clinical applications of advanced echocardiography technologies, valvular heart disease, heart disease in women, and disparity in healthcare delivery, with more than 110 peer-reviewed manuscripts. A dedicated educator, Taub has trained more than 100 cardiology fellows and mentored many leaders in cardiology, including echocardiography lab directors and sonographers over her academic career.
In her previous leadership roles, she has been committed to building collaborative environment, as well as learning and adapting to changes in healthcare. She has been instrumental in developing new clinical programs that have addressed women's heart health; cardio-orthopedics, cardio-oncology and cardio-obstetrics. As a leader, she is principled and mission-driven. She values diversity, equity and inclusion in the workplace. She serves on the Women in Cardiology (WIC) committee at the American Heart Association and has received WIC Engagement funding from the American College of Cardiology.  She is currently the treasurer of the American Society of Echocardiography, the largest cardiovascular ultrasound organization in the world.
She has been honored with numerous awards, including the Richard Popp Excellence in Teaching Award. Given by the American Society of Echocardiography, the award recognizes a physician who epitomizes the ideal qualities of a mentor and role model.
Taub received her medical degree from Beijing Medical University, master's degree in Biology from Dartmouth College, an MBA (healthcare track) from Yale School of Management.  She completed clinical cardiology training at Hartford Hospital, University of Connecticut, and an Advanced Echocardiography fellowship from the Massachusetts General Hospital. She is board certified in cardiovascular diseases and holds additional certification in adult comprehensive echocardiography.
Taub enjoys the outdoors and values time spent with her family: her husband (Xing, a graduate of Syracuse University) and her three children Alex, 20; Mollee, 17; and Sofia, 14.