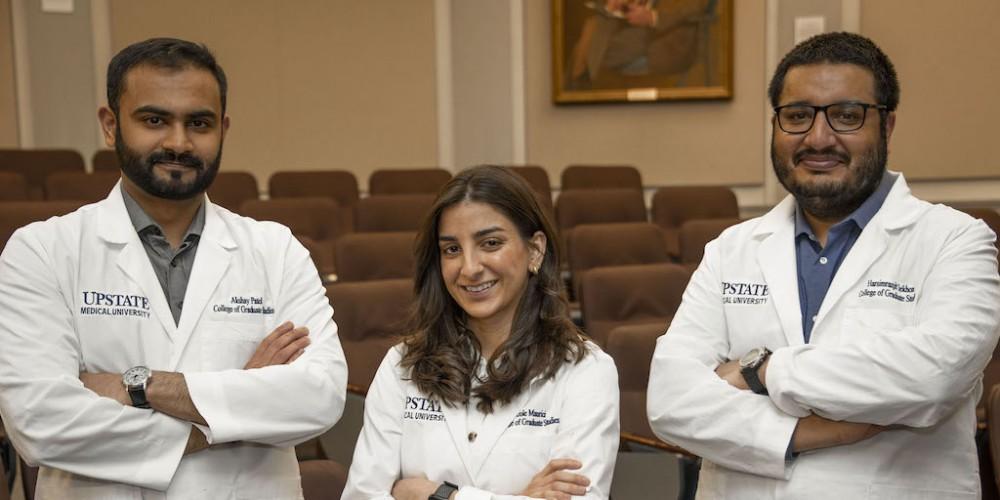 Three Upstate students, honored for their research, are among SUNY GREAT award winners
Three Upstate Medical University students are among the 33 State University of New York students selected for the 2023 SUNY Graduate Research Empowering and Accelerating Talent (GREAT) award. Each winner will receive $5,000 in flexible funding for research expenses, professional development, and stipend supplements.
Upstate students receiving the GREAT awards are Nicole Maurici, Biochemistry and Molecular Biology, Akshay G. Patel, Medicine, and Harsimranjit Sekhon, Biochemistry and Molecular Biology.
Maurici's winning research project is "Elucidating the Mechnasim of MBD Protein LLOPS and its Role in Transcriptional Repression."
Patel is honored for his work on "Rab4A Control of Liver Dysfunction in Models of Systemic Lupus Erythematosus.

Sekhon's award-winning work study is "Molecular Devices for the Detection and Treatment of HCMV Infection."
In making the announcement, SUNY Chancellor John B. King, Jr. recognized the students for conducting innovative research that tackles some of society's most pressing issues.
"Each of our GREAT Award recipients exemplify how SUNY is addressing complex problems with groundbreaking ideas and research," said SUNY Chancellor King. "We are pleased to congratulate all 33 awardees for their dedication to improving the lives of others. Research will always be a pillar of higher education, especially at SUNY, and I urge all our students to always stay curious and seek out new ways to advance our society."
SUNY Upstate Medical University President Mantosh Dewan, MD, said, "I want to congratulate these students for achieving this GREAT honor and thank SUNY for recognizing them for their important research. A key focus of Upstate's mission is supporting and engaging in research that benefits the human condition. These Upstate students—Nicole, Akshay and Harsimranjit—are helping us excel in this important mission."
SUNY GREAT awards, now entering its third year, provide incentives for SUNY graduate students to compete for federal awards sponsored by agencies including the National Science Foundation, National Institutes of Health, and U.S. Department of Energy, among others.
The award-winning research provides a better understanding of climate impacts on glaciers to address the climate crisis; investigates ways to manage harmful invasive species to protect native ecosystems; studies the biomechanics of humans to create more human-like performance in robots; works to create more sustainable battery storage options for solar and wind energy; and develops an enhanced understanding of how genetics play a role in the longevity of humans.
Other students honored are from Stony Brook University, University of Buffalo, Binghamton University and SUNY College of Environmental Science and Forestry.
A complete list of student winners and abstracts are here.
Caption: Winners of the Graduate Research Empowering and Accelerating Talent award from Upstate are, from left, Akshay G. Patel, Nicole Maurici, Harsimranjit Sekhon.