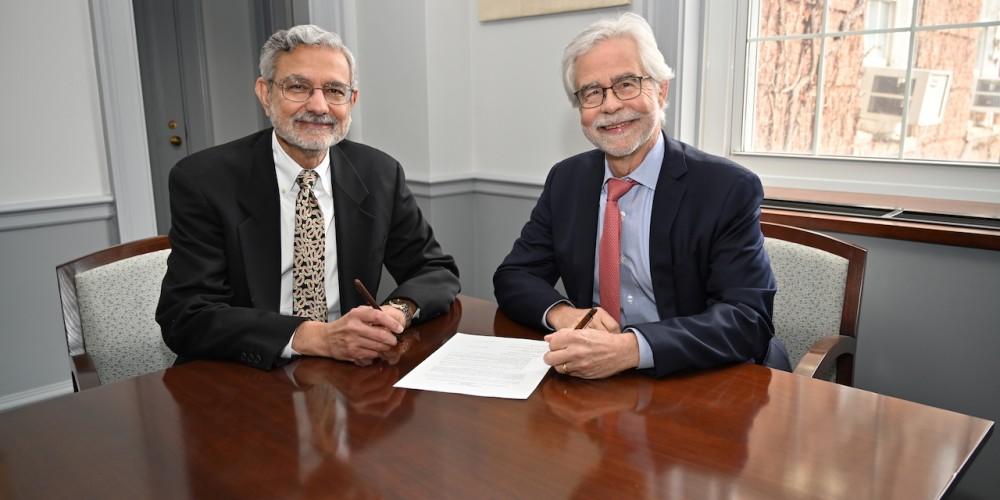 Upstate, SUNY College of Optometry join forces to address eye care workforce needs and access in Upstate New York
Upstate Medical University and the SUNY College of Optometry will join forces to improve access to health care through growing the number of eye doctors in Central and Western New York.
The partnership between the two SUNY campuses leverages the strengths of both institutions through creating an Optometry campus extension program offering a doctorate of optometry degree, collaborative vision research, access to eye care, and economic opportunities in the region. This partnership addresses the critical need for more eye doctors in the region and provides a more affordable option for aspiring eye care professionals, especially those who live in New York State.
Eye and vision care are critical elements in the health care delivery system and serve as an entry point to addressing greater health care needs. A comprehensive eye exam may help detect more than 250 serious health conditions that require co-management and interprofessional collaboration across multiple health disciplines. With this partnership students have a unique opportunity to learn in a highly interdisciplinary environment modeling the future of health care delivery as well as to expand access to general and specialty eye care for patients.
"We are addressing several critical issues through this partnership – the future of health care delivery with an interdisciplinary focus, collaborative research opportunities to improve eye and vision care, and the regional workforce shortage," shares Dr. David A. Heath, president for SUNY College of Optometry. "Being part of the SUNY System provides unique opportunities to participate in solving challenges and we are looking forward to partnering with Dr. Dewan and his team to provide a greater resource for the upstate region."
Reports from area optometrists and ophthalmologists indicate that many eye care positions remain vacant putting pressure on an already lean workforce and leaving some communities without ready access to eye and vision care.
Further, a recent survey conducted by SUNY College of Optometry found that 25% of optometrists practicing in the region anticipate retiring within the next five years, an increase over the previous survey conducted in 2010. As the only school of optometry in New York State, with its Manhattan campus, located 250 miles from Syracuse, this partnership offers an alternate environment and a potentially more affordable option for students, especially those who already live in New York State, and wish to train at a top institution outside of a metropolitan area.
"We are delighted to bring the world-class expertise of SUNY Optometry to enrich Upstate's internationally-recognized Department of Ophthalmology and Center for Vision Research. By serving as their extension campus, we will increase the number of eye care professionals available to serve our communities," said Mantosh Dewan, MD, president of Upstate Medical University. "This also fulfills Upstate's goal to deepen partnerships with other SUNY schools and to increase the breadth of health professional programs offered by Upstate Medical University."
SUNY Chancellor John B. King, Jr., said, "SUNY is at the forefront of healthcare innovation. By bringing together researchers and doctors from our College of Optometry and Upstate Medical, we can more effectively connect eye care with hundreds of related health conditions. This exciting ground for doctors will broaden opportunities for students considering a career in healthcare. SUNY graduates 10,000 health professionals each year, and I am thankful to Dr. Heath and Dr. Dewan for bringing their teams together, and inspiring more students to join them."
The program will parallel the doctor of optometry program currently offered by SUNY College of Optometry. The first class is anticipated to start in the fall of 2025 with an estimated 30 students pending successful completion of all state and accrediting body approvals.
Caption: Upstate Medical University President Dr. Mantosh Dewan, left, and SUNY Optometry President Dr David Heath.
About SUNY College of Optometry
Founded in 1971 and located in New York City, the State University of New York College of Optometry is a leader in education, research, and patient care, offering the Doctor of Optometry degree as well as MS and PhD degrees in vision science. The College conducts a robust program of basic, translational and clinical research and has over 68 affiliated clinical training sites as well as an on-site clinic, the University Eye Center.  SUNY Optometry is regionally accredited by the Commission on Higher Education of the Middle States Association of Colleges and Secondary Schools; its four-year professional degree program and residency programs are accredited by the Accreditation Council on Optometric Education of the American Optometric Association. Currently, all classrooms, research facilities and the University Eye Center, which is one of the largest optometric outpatient facilities in the nation, are located on 42nd Street in midtown Manhattan. To learn more about SUNY Optometry, visit www.sunyopt.edu.
About SUNY Upstate Medical University
The region's largest employer, Upstate Medical University is the only academic medical center in Central New York, serving the state from Canada to Pennsylvania with its educational, clinical and research missions. A highlight of Upstate's leading role in the region is its ability to ensure access to vital one-of-a-kind services, such as burn and trauma care and an array of highly specialized stroke, cancer and neurosurgical and pediatric services through its 752-bed Upstate University Hospital, which includes the Upstate Golisano Children's Hospital and the Upstate Cancer Center. In addition to its clinical mission, Upstate, which is one of the State University of New York (SUNY)'s 64 campuses, enrolls more than 1,400 students and offers degrees in medicine, nursing and a variety of health professions, and conducts more than $42 million in funded research. Founded in 1834, Upstate is the 15th oldest medical school in the United States.