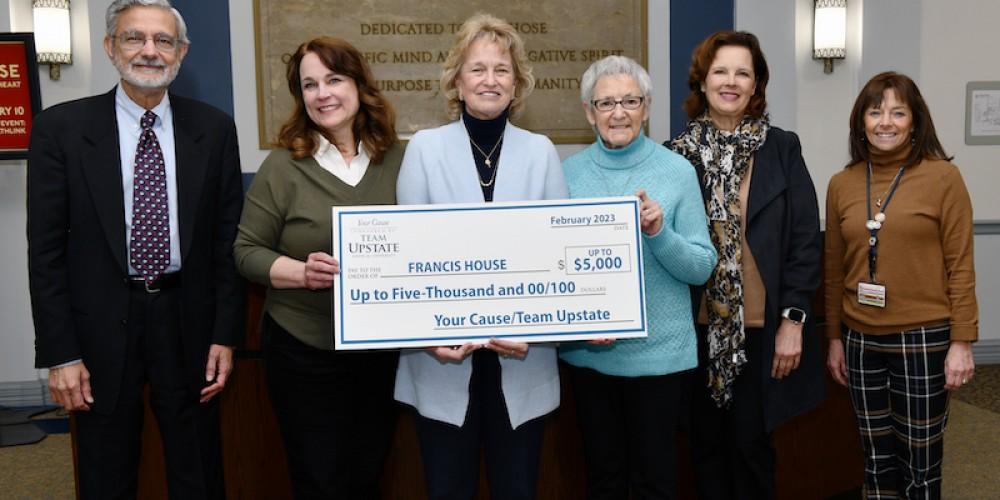 Francis House selected as Upstate's Your Cause charity for 2023
Upstate Medical University has selected Francis House as the university's 2023 Your Cause charity.
Francis House was founded 32 years ago by Sister Kathleen Osbelt, OSF, as a community care home specializing in end-of-life care. Dedicated staff and volunteers provide unconditional love to those facing a terminal illness, offering compassion, respect and dignity to all. Francis House welcomes residents of all faiths, ethnicities, and abilities to pay, and relies solely on the community's generosity to operate.
In selecting Francis House as its Your Cause agency, Upstate will provide the nonprofit with volunteer support and with up to $5,000 in funding through 2023.
"Francis House is honored and blessed to receive this wonderful support from the Upstate Your Cause Charity," said Mary Anne Hankins, Executive Director. "The funds and the volunteer support will help us continue Sr. Kathleen Osbelt's mission to be a home and an extended family and use our lived experience as a resource to help others in our community."
Francis House comprises two homes at 108 and 114 Michaels Ave., in Syracuse. Each home offers eight resident care rooms. Francis House provides residents with 24-hour care, meals, pastoral care, and integrative therapies. In addition to its paid staff, Francis House is supported by more than 200 volunteers.  The organization does not receive federal or state funding or insurance reimbursement.  – relying soley on the community's generosity to operate. a dedicated group of community funders.  Since opening, the nonprofit has cared for more than 3900 residents.
The nomination of Francis House was submitted by Lisa Joyce, LMSW, a social worker in Upstate's Transitional Care department. "The compassion and support offered by the staff and volunteers to Francis House residents is truly humbling and heartwarming," Joyce said. "I am so grateful that this charity is part of our community."
Upstate University Hospital and other area hospitals have warm relationships with Francis House and its staff members, working closely with the Francis House care team to refer patients for admission.
Past Your Cause agencies include Sarah's Guest House, Rescue Mission Emergency Youth and Runaway Shelter, In My Father's Kitchen, Clear Path for Veterans, OnPoint for College and Chadwick Residence.
Team Upstate works to promote public awareness of Upstate's contributions to the community and to encourage volunteer participation among Upstate students, staff, faculty and retirees. Team Upstate sponsors activities and events annually that promote quality of life and maintain Upstate's mission, vision and values. 
Caption: Announcing Francis House at Upstate's Your Cause charity are, from left, Upstate President Mantosh Dewan, MD; Lisa Joyce, LMSW; Francis House Executive Director Mary Anne Hankins; Sr. Colette; Zanette Howe; and Linda Veit, MPH.