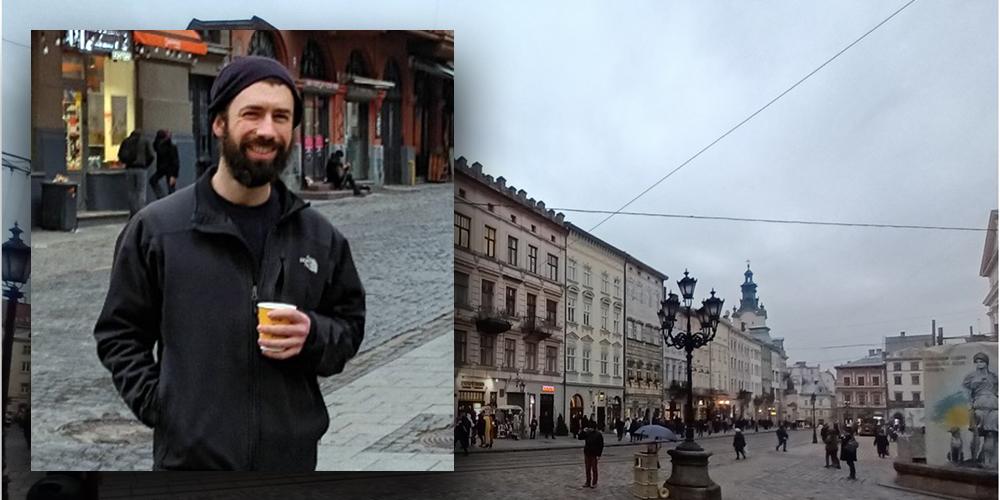 Third Upstate doctor travels to Ukraine to provide medical aid
Upstate Radiology Professor David Lubin, MD, got a great deal on a portable sonogram machine on Black Friday.
He loaded the machine, some trauma first aid supplies and warm clothing into the biggest rolling duffel bag he could get, took two flights, a bus and then a train to deliver it all safely to medics in Ukraine last month. By bringing the supplies to Lviv himself, he could not only guarantee their safe arrival, but could also train the volunteer medics on how to use the sonogram machine in a trauma setting.
"It was my way to give back and donate my professional abilities," said Lubin, MD, who spent four days in Ukraine.
Lubin said he has long wanted to help the Ukrainian people in the war with Russia and has been inspired by what others in the local and Upstate community have done, especially Dr. Gennady Bratslavsky, a Ukraine native and Upstate physician who has raised money and delivered medical supplies to the war-torn country.
Lubin has a friend who volunteers in a special forces unit based in Kharkiv within the Ukrainian army and knew they needed supplies.
Lubin thought back to his residency training at Upstate when he learned about using ultrasound as a trauma assessment tool. Portable sonogram machines that hook up to a phone or iPad are now readily available, so he decided to buy one to donate to the special forces unit. Using his own money and donations from the community, he purchased a Butterfly iQ and Ultrasound from Butterfly Network. It works with an iPad mini with trauma and procedure-based software add-ons and can upload DICOM format images to a cloud for archiving and analysis.
"It was a great deal," he said. "I kept thinking about ways I could help. Ultrasound makes sense from my training as a radiologist."
Once he had the machine, he practiced using it on himself and on a manikin, also known as Intelligent Eve, in the Upstate Simulation Center. He wrote up a protocol for medics to use based on the FAST (Focused Assessment with Sonography for Trauma) protocol he had learned as a resident. He assembled some other supplies the volunteers needed for trauma treatment, some warm clothing for refugees fleeing the front and set off to Lviv, where he would meet with medics to deliver the machine and supplies.
He flew to Warsaw, Poland, then took a small plane to Rzeszow, a small town on the border with Ukraine. He traveled by bus and train across the border into Lviv. Buying his train ticket was the biggest challenge due to the language barrier so Lubin turned to his phone and Google translator. He and the conductor communicated by typing their words into their phones, translating and reading each other's phones in so he could buy his ticket.
The train arrived in Lviv at 2:30 a.m. during curfew imposed to keep civilians safe. His friend in Ukraine's special services unit helped arrange a secret escort that could safely bring him to his hotel.
Lviv is far from the front, but Lubin said there was a military presence and constant power outages, with many shop owners running generators.
"You could feel something was not normal," he said.
The power went out in his hotel his first day there so the next day when the power returned, he demonstrated how to use the sonogram machine with the medics who came to meet him. Now, those medics, who deal with trauma in the field, can push images to him digitally and he can offer analysis. He met with special forces medics this week via videoconference upon return to review the system, archive images and review the trauma protocol after the device was used on the front lines earlier this month.
Lubin also delivered a trauma first aid kit, along with supplies like chest seals, IV start kits, decompression needles, trauma bandages and splints.
Lubin, who earned his medical degree and served as a resident at Upstate, said he was inspired by the culture of service at the university and within the local community.
"It was a great experience to take the training I received here at Upstate, and to apply it in a humanitarian way," he said "It is my contribution to the whole effort that I see here at Upstate and the general Syracuse area. It is great to be surrounded by people who are like-minded and action and service driven. Upstate is a very action and service-driven place and that's been very inspirational. That's also what gave me the foundation to do this."
In addition to Lubin and Bratslavsky, Upstate physician Sherard Tatum, MD, traveled to Ukraine last September with the group Face to Face to perform facial surgeries on civilians and soldiers injured in the war with Russia.
Caption: David Lubin, MD, in Lviv, Ukraine, during his visit in December to bring medical equipment and other items to the war-torn country.