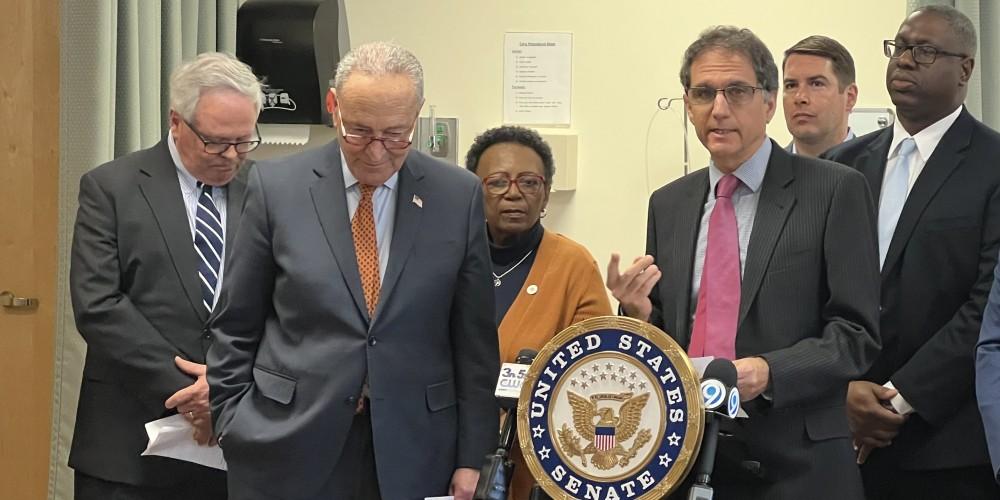 Upstate awarded $1.1 million to establish a suicide prevention center
Upstate Medical University will receive $1.1 million in federal funds to establish a Suicide Prevention Center, an umbrella center under which its current programs and outreach can be coordinated and supported.
The funding was secured by U.S. Sen. Majority Leader Charles Schumer, Sen. Kirsten Gillibrand and former Congressman John Katko.
With $1.1 million in federal support and additional funding, the Upstate Suicide Prevention Center would provide better access to effective prevention and treatment strategies for high-risk youth and young adults in Central New York. Its primary mission would be to create and foster a continuum of care, from primary prevention to case identification to early intervention to recovery-based treatment. The center would coordinate and expand current cutting-edge interventions developed and applied at Upstate, and also support the prevention initiatives currently being planned in school districts across Central New York through training, outreach, and other activities.
"With all of our current efforts, and now the grant to help coordinate them, I am hopeful that we can move the needle on suicide here in Onondaga County," said Robert Gregory, MD, professor of psychiatry and behavioral sciences. "We have many efforts in diverse directions but there isn't a single umbrella they all fall under. To have the entire spectrum of a continuum of  care that's well coordinated would be a great goal."
Gregory, who will serve as the director of the new center, said that suicide rates among youth and young adults have almost doubled in frequency since 2013 and that Onondaga County has one of the highest suicide rates overall in New York state.
"There has been a problem with either long waiting lists or a revolving door where people are stuck in chronic depression and other illnesses," Gregory said. "They go in and out of the hospital or in and out of CPEP for suicide, too often ending in death or despair or losing hope through that cycle."
The Suicide Treatment Center is the newest of Upstate's ground-breaking initiatives.
In 2017, Gregory started the Psychiatry High Risk Program (PHRP) for suicidal youth and young adults, an innovative program focused on transformational healing and recovery, using an evidence-based treatment called dynamic deconstructive psychotherapy, which was also developed at Upstate. The program has served more than 600 individuals and has demonstrated more than a 90 percent reduction in hospitalizations and other outcomes, and is the only program of its kind in the country. The PHRP was recently awarded the designation as "a best practice in suicide prevention" by the national Suicide Prevention Resource Center.
Additionally, Upstate is New York's principal site for the Zero Suicide (ZS) Initiative. As part of the initiative, Upstate established universal suicide screening protocols and safety planning in its adult emergency rooms and psychiatric units. In 2019, the ZS initiative was expanded to the adolescent behavioral unit.
In 2020, Upstate helped expand a brief, innovative, evidence-based treatment program called Attempted Short Suicide Intervention Program (ASSIP) for adults attempting suicide. ASSIP has been shown to reduce suicide attempts and hospitalizations in high-risk adults. Upstate is one of the leading institutions in the U.S. providing ASSIP to suicidal individuals and is a site for a National Institute of Mental Health grant further evaluating its effectiveness.
Also In 2020, Upstate also established the first partial hospitalization program (Intensive Outpatient Program, IOP) for suicidal adolescents in the region, and involves daily application of dialectical behavior therapy for adolescents (DBT-A) for teens and their families. DBT-A is the most firmly established treatment for suicidal adolescents and is an important component in a continuum of care. Upstate also established a dedicated interventional psychiatry program for adults suffering from treatment-resistant depression and suicide ideation, adding enhanced electroconvulsive therapy, transcranial magnetic stimulation, and vagal nerve stimulation services, and instituting an esketamine treatment program. Upstate was one of the sites for the initial development of vagal nerve stimulation therapy and one of the only clinical sites offering ongoing programming on a wide scale.
"We should be proud of our efforts at Upstate," Gregory said. "We have some extraordinary faculty members who have made great strides in suicide prevention. We are really at the forefront."
Caption: Dr Robert Gregory, at podium, speaks about the establishment of a suicide prevention center at Upstate. Center funding was announced by U.S. Chuck Schumer.