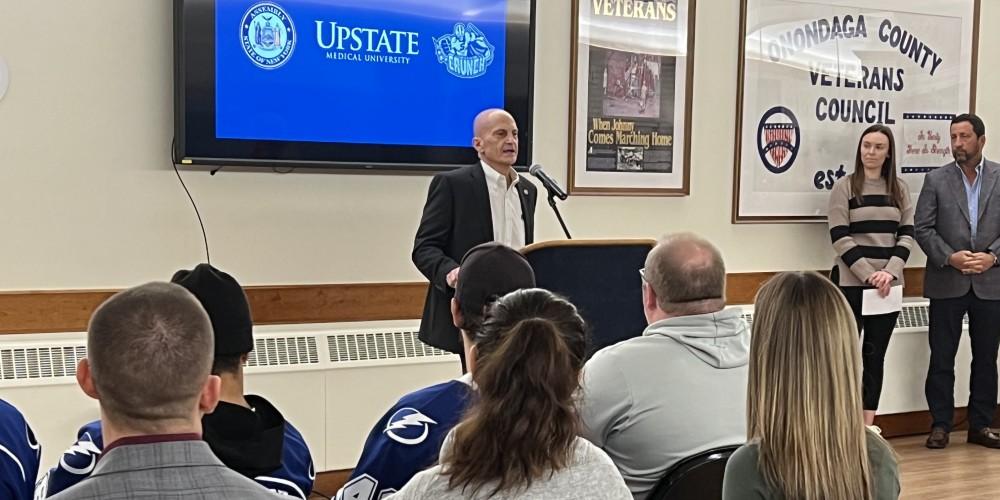 Upstate, Crunch partner on opioid abuse education campaign
Upstate Medical University and the Syracuse Crunch are teaming up to fight opioid use and overdose through a public education campaign funded by a grant from Assemblymember Pamela J. Hunter.
Also participating in the campaign is Crouse Health.
Crunch and hospital officials made the announcement Jan. 5.
Crunch owner Howard Dolgon said the Crunch will develop an initiative to use its platform and players to bring messages to general audiences as well as connect with athletic trainers and student-athletes on issues related to opioid use.
Upstate University Hospital CEO Robert Corona, DO, MBA applauded the participation of the Crunch in this initiative; "Athletes are heroes to a lot of kids," he said. "A lot of the kids that end up taking pain medications are athletes. So, their heroes are people like the Crunch athletes, so they'll listen to them."
Opioid abuse may result from the misuse of prescribed drugs. Prescription opioids are often prescribed to treat moderate to severe pain following surgery or injury.
Caption: Upstate University Hospital CEO Robert Corona, DO, MBA, speaks at a press conference announcing an opioid abuse education campaign.