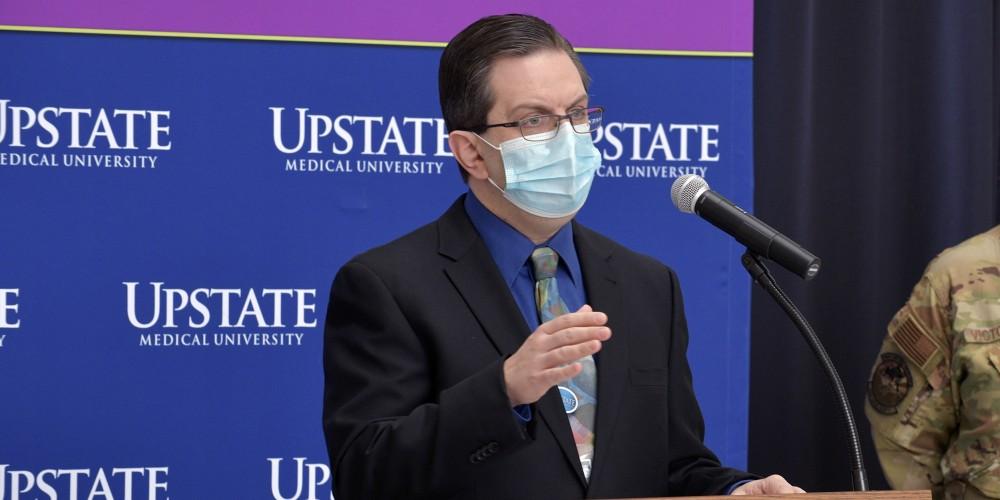 Upstate to provide trauma care for international sporting event in Lake Placid Jan. 12 to 22
Upstate University Hospital is one of two hospitals that will provide trauma care to athletes participating in the World University Games in Lake Placid in January.
The World University Games brings together 2,500 athletes and coaches from 600 universities in 50 countries from Jan. 12 to 22. Athletes will compete in 12 different winter sports at venues across the North Country.
As the only two Level I trauma centers in the region, Upstate and Albany Medical Center will be on call to handle any serious injuries.
Christopher Tanski, MD, MSEd, assistant professor of emergency medicine, is overseeing Upstate's role in the games. He said he meets with games officials once a month to talk things through, but for the most part, it is just business as usual for Upstate.
"If an athlete gets injured, it will likely be an orthopedic type of injury and most major orthopedic trauma comes to Upstate anyway," he said. "They expect a lot of participants, I'm told thousands, and even more spectators. This will be bigger than the Olympics that were in Lake Placid. These are healthy college-aged athletes so unless there is a serious injury, we aren't expecting a large burden on the health care system. We are happy to be a part of it."
In addition, Tanski has been tagged as one of two medical directors for the EMS teams that will be supporting the games. Due to the scale of the event and the number of ambulances needed at venues and athlete villages, many EMS teams are being brought in from other states, so as not to over burden the regional ambulance companies. As such, the crews may need guidance or advice in terms of protocols and resources. Tanski will be on call every other day during the games to help advise the crews. He will split the duties with a colleague at Albany Medical.
"As someone with a background in EMS, that will be my specific role," he said. "We know what hospitals can handle different things so we can help guide the crews as to where to go and what injuries need to come to a trauma center."
Tanski said he is looking forward to Upstate playing a role in an international event taking place in the Central New York region.
"We have a lot of experience in what I call event medicine," he said. "We cover the New York State Fair every year, we provide coverage as needed at St. Joseph's Amphitheater, we do the Dome, so there's a lot of experience locally for covering large events. This is something we have a niche in. Even though we are not providing primary coverage for the University Games, we are one of one two major centers for receiving anything complicated. I think it's a lot of fun and neat to have an Olympic-sized event close by, so we are looking forward to it. "
Caption: Christopher Tanski, MD, MSEd, an emergency medicine physician, has been tapped to be one of two medical directors for the EMS teams supporting the event. Tanski served as the chief medical officer of the state's Covid patient overflow hospital in Javits Center in 2020.