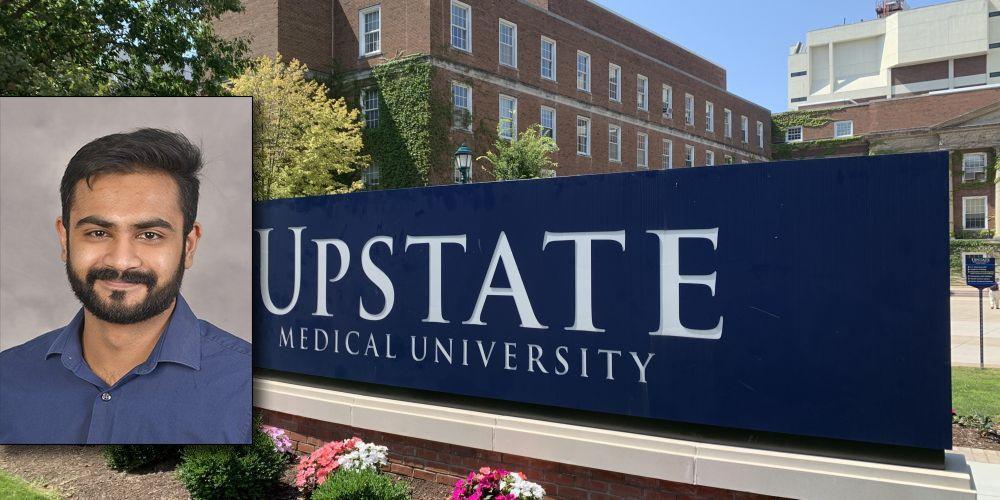 Upstate MD/PhD student awarded 2-year NIH grant for lupus research
Systemic Lupus Erythematosus, known as SLE or lupus, is a disease with an array of symptoms from rashes to fatigue and pain to organ damage, explained Akshay Patel, an MD/PhD student in the lab of Upstate's Andras Perl, MD, PhD.  
It affects women far more than it does men, often in their childbearing years, he said. Singer and actress Selena Gomez was diagnosed a decade ago and increased public awareness of lupus when its effects required her to get a kidney transplant in 2017.
Scientists may be getting closer to understanding lupus thanks to a grant Patel was awarded by the National Institutes of Health. Earlier in 2022, Patel was notified that the National Institute of Diabetes and Digestive and Kidney Diseases had awarded him a Ruth L. Kirschstein National Research Service Award (NRSA) Individual Fellowship for Students at Institutions Without NIH-Funded Institutional Predoctoral Dual-Degree Training Programs (Parent F30).
The two-year funding will allow him to continue his work with model mice, discerning the role played by a specific enzyme that is associated with the onset and worsening of lupus.
Patel is focused on the effect lupus has on the liver, what he called "the most metabolically active organ in the body." In particular, he is looking at an enzyme called Rab4A, that works within cells to "turnover mitochondria that don't work and adjust proteins on the surface of a cell," he said.
"The enzyme is increased in lupus patients," he said.
Working with model mice, Patel undertook an experiment to create mice that don't have the Rab4A enzyme within T cells, key parts of the body's ability to fight disease, including cancer. Patel theorized that removing the Rab4A from T cells would help reduce the prevalence of lupus.
"It had just the opposite effect," he explained. Liver inflammation was present in the mice.
The surprise finding warranted more investigation and reviewers at the National Institutes of Health recognized that. While they did not fund Patel's first application, they provided him with positive and specific feedback. His next application reflected some of the suggested changes and found success. 
Patel said the research has had an unplanned side effect. He has found himself fascinated by the liver and is thinking he would like to pursue a specialty in hepatology. That will likely require a residency in internal medicine followed by a fellowship in gastroenterology and a second fellowship in hepatology. 
He has set his sights on being a practicing physician with his own lab, the same situation Perl has created at Upstate. Indicating how influenced he is by Perl, Patel notes that he has walked into the P.I.'s office and found him busy, but willing to stop and look when Patel asked him to "look at some cells with me." 
"He told me," Patel said, "I'll always make time for science." 
Caption: MD/PHD student Akshay Patel (inset) received an NIH grant for lupus research.