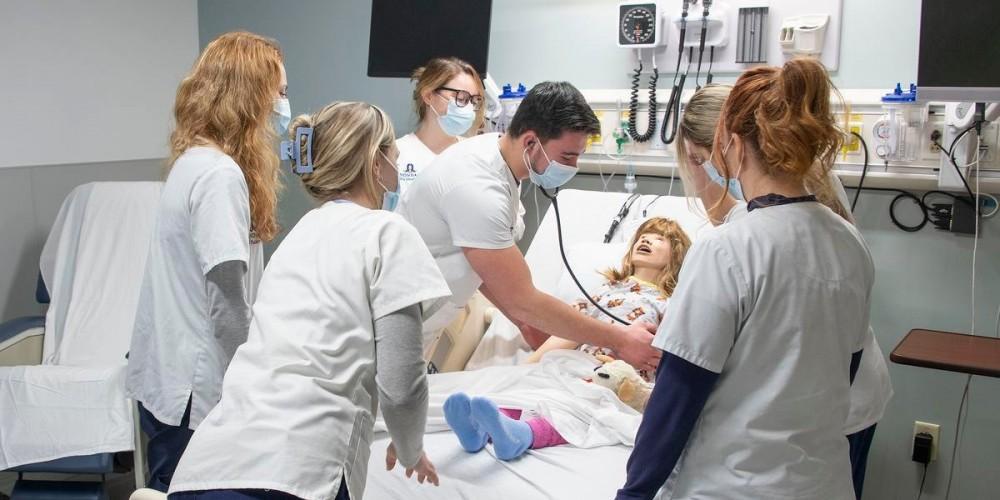 College of Nursing's accelerated nursing program helps nurses meet new degree requirements
Upstate Medical University's College of Nursing accelerated RN-BS degree program aims to help working nurses comply with a new state law, offer locally enrolled nursing students a direct pipeline to their degree, improve quality of care for patients and help combat the nationwide nursing shortage.
The online program offers working nurses who have earned their associate degree or diploma the opportunity to earn their BS, or bachelor's degree in nursing, full time in 16 months or part-time in 22 months. It also offers a direct entry to the program by offering a dual admission to students pursing their Associate in Applied Science Degree in Nursing at several local community colleges.
The new program welcomed 16 students to its inaugural class this fall and will add another 9 for the spring semester.
Upstate's Joshua Purcell, MS, RN, and undergraduate track coordinator for the program, said before the program got revamped this school year, it took two to three years to complete. Purcell said that student feedback focused on modifying the program for a better work-life balance which led to the accelerated version.
"Now more than ever we need individuals who are able to be readily trained and to be trained in an efficient manner so they can get to the bedside to start making an impact," Purcell said. "Seeing that nursing shortages aren't going away, our program allows for creativity and a more thoughtful mind for students who are participating, and these nurses can better care for the aging population and the growing amount of illness that we keep seeing in our community."
All nurses in New York state are now required to earn their BS within 10 years of their initial licensure, as part of the BS in 10 law passed in 2017. Nurses who were licensed before the law was passed are grandfathered in with the minimum requirement of an associate degree or diploma.
Additionally, as a Magnet-designated hospital, Upstate nurses must hold a BS or higher degree to be considered nurse leaders.
This program helps working nurses meet those requirements. Purcell said the two different course length options suit the different interests and needs of students.
"There is the opportunity for students to take a lower credit load and extend the program six months," he said. "Some find this beneficial to allow for better-work life balance. Some dig in and focus to stay engrossed. Others like to space it out, so they don't feel overwhelmed."
The program is open to any working nurse in the country, but so far participants are all local and about half are in their pre-licensing programs at local community colleges.
Upstate has the dual admission program established with nursing programs at Onondaga Community College and Cayuga Community College and is working to build similar relationships with Tompkins Cortland Community College and Mohawk Valley Community College.
Students earning their associate degrees can gain direct access to the BS program provided they maintain a minimum GPA of 2.5. Students can receive guidance and support from Upstate's program in terms of their elective selections which can help lighten their load once at Upstate. Students who accept jobs at Upstate receive tuition assistance.
Purcell said communication and connection with these programs has significantly increased this past year.
"Our focus is on making everything easier for student access," he said. "That's the primary goal this year. We are changing language in our letters to make things clearer in terms of things like degree requirements and application fee waivers. We are allowing them to fully see the support and resources we can offer."
Recently, OCC students doing their clinical at Upstate had the opportunity to practice skills in the Simulation Center.
"Providing patient care to children and families can be intimidating for nursing students," said Kathryn Holliday, DNP, CPNP, CNE, pediatric nurse practitioner program director. "The simulation environment provides nursing students with a safe space to practice skills such as medication administration, communication, and physical assessment in a learning environment that facilitates growth and development. I loved working with the OCC students and enjoyed the enthusiasm for learning that they brought to the SIMCenter."
Purcell credits experiences like that as well as the diverse and talented faculty in the College of Nursing—with specialties in everything from neuroscience to maternity to recruitment--who work with the students for making the program so engaging to prepare students to have an impact on patients and the community as a whole.
"The ultimate goals of the program are to continue to support our community partnerships for our local education base and university needs and our greater hospital area needs," Purcell said.
"In addition to that we want to offer affordable quality education to any nurse seeking their bachelor's degree to help elevate their understanding of patient care, along with offering them new avenues for nursing career options," he continued. "Whether they wish to become an advocate for public health or a nurse leader for the area, the courses they are taking for their bachelor's degree give them the tool sets that allow them to pursue those kinds of nursing professions and careers outside of working at the hospital bed side.  Beyond that, we want most the most educated and qualified nurses to take care of our patents in our community as well."
Caption: Onondaga Community College pipeline students who are finishing up their RN programs participate in a pediatric simulated clinical experience at Upstate Medical University's Simulation Center.