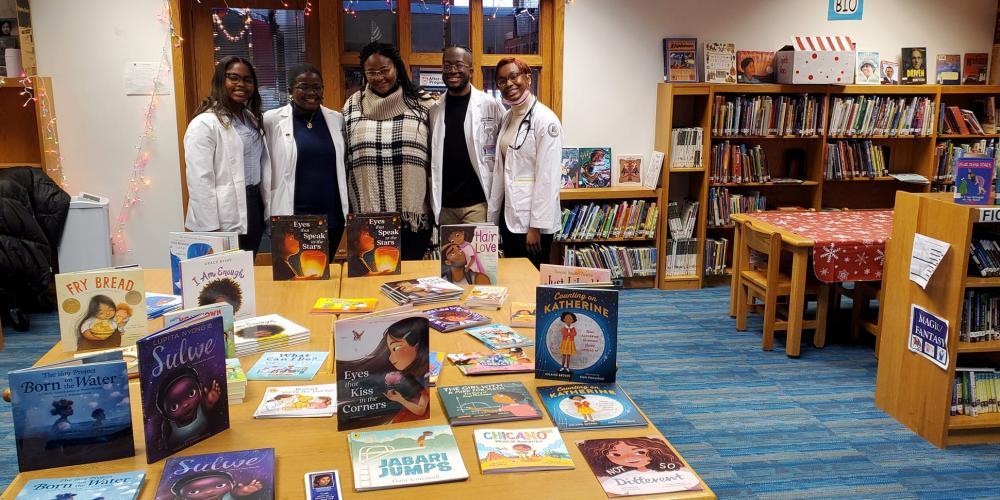 With books and inspirational messages, Upstate medical students visit elementary school
Medical students from Upstate Medical University's chapter of the Student National Medical Association (SNMA) distributed dozens of books to students in kindergarten through third grade at Van Duyn Elementary School in Syracuse as part of their outreach efforts to instill in students that anything is possible for anyone.
SNMA is a national organization aimed at supporting future students from underrepresented populations to enter medical school. The organization at Upstate is supported by Nakeia Chambers, MSEd, Upstate's director of multicultural affairs and student inclusion.
The children's books, which were donated during an early semester book drive and distributed Nov. 30, reflected a rainbow of multicultural inspirational stories that kids could read and likely see their reflection in the pages.
"Books that reflect who you are are so important to children at this age," said Julian Yeboah, a second year medical student from Brooklyn. "I know from my own experience how important these opportunities are."
In addition to reading to the classes, the med students also spoke about the work and education it takes to succeed in the medical field and in science.
"We all had enthusiastic smiles listening to the dreams of these children," Yeboah said. "We're in good hands."
The medical students expressed emotion themselves when the principal asked each to highlight the educational journey and hard work that has brought them to medical school.
"She made us all realize the sacrifices and determination each of us has invested in our studies," Yeboah said. "I think that helped her students understand what it takes to succeed."
On its Facebook page, Van Duyn thanked the Upstate students for the visit: Our students were "thrilled to speak with the future doctors and to hear their journey to medical school. The books, autographs and time will remain a treasure in all of our hearts."
Caption: Nakeia Chambers, MSEd, Upstate's director of multicultural affairs and student inclusion, center, is joined by second-year medical students, from left, Tiara Jennings, Angelina Ellis, Julian Yeboah and Phorbe Ilevbare. They are gathered in the library at Van Duyn Elementary School with the books they donated.