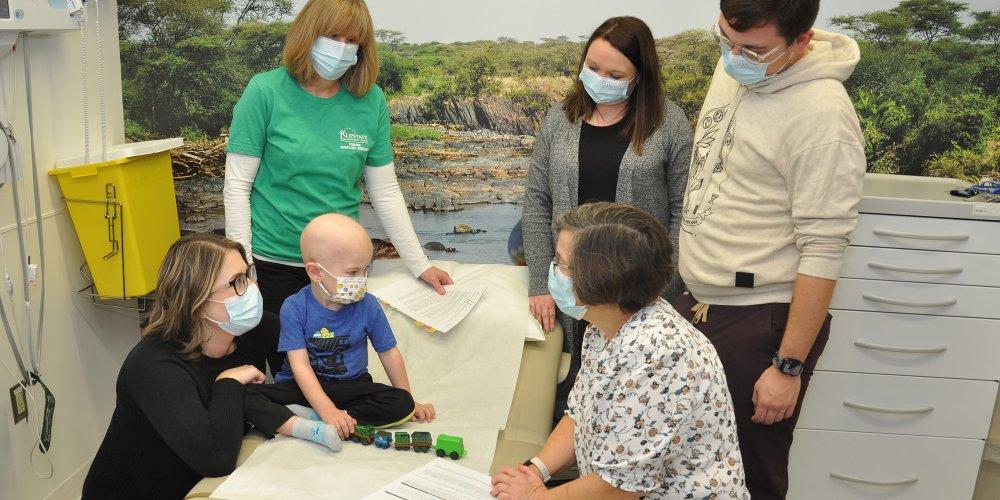 Upstate is awarded $50,000 grant from St. Baldrick's Foundation to support clinical trials for children with cancer
Melanie Comito, MD, division chief of Pediatric Hematology/Oncology and the Paige Yeomans Arnold Endowed Professor at Upstate Golisano Children's Hospital, has been awarded a $50,000 infrastructure grant by the St. Baldrick's Foundation.
These one-year grants provide Upstate the staffing to open, coordinate, and treat more children on clinical trials, making it possible for more children to access these trials close to home.
Upstate was one of 20 institutions to receive an infrastructure grant, totaling more than $1.2 million.
The award supports the work at the Dr William J. Waters Center for Children's Cancer and Blood Disorders at Upstate Golisano Children's Hospital, which provides oncology care to children, adolescents, and young adults.
"Having the ability to enroll our young patients in clinical trials is important as we address various treatments," Comito said. "We're grateful for the support from St Baldricks for providing the funding that broadens the opportunities for our patients to participate in these clinical trials."
Upstate currently has 55 open clinical trials available for pediatric cancer patients.
"Research is hope and the dedication and generosity of the St. Baldrick's community equip researchers to save children's lives," said Kathleen Ruddy, St. Baldrick's CEO. "Countless children are alive today because of volunteers, donors, and researchers.  Together, they make more childhood cancer survivors."
St. Baldrick's is a volunteer-driven charity committed to funding the most promising research to find cures for childhood cancers. St. Baldrick's coordinates its signature head-shaving events worldwide where participants collect pledges to shave their heads in solidarity with kids with cancer, raising money to fund research.
Caption: Dr Melanie Comito, second from right, talks with Kelsey Strife about enrolling her son Brooks Elliott in a clinical trial. Clinical research staff members, back row from left, Karen Bilynsky and Suzanne Majewski assist with clinical nurse Shaun Lamphear.