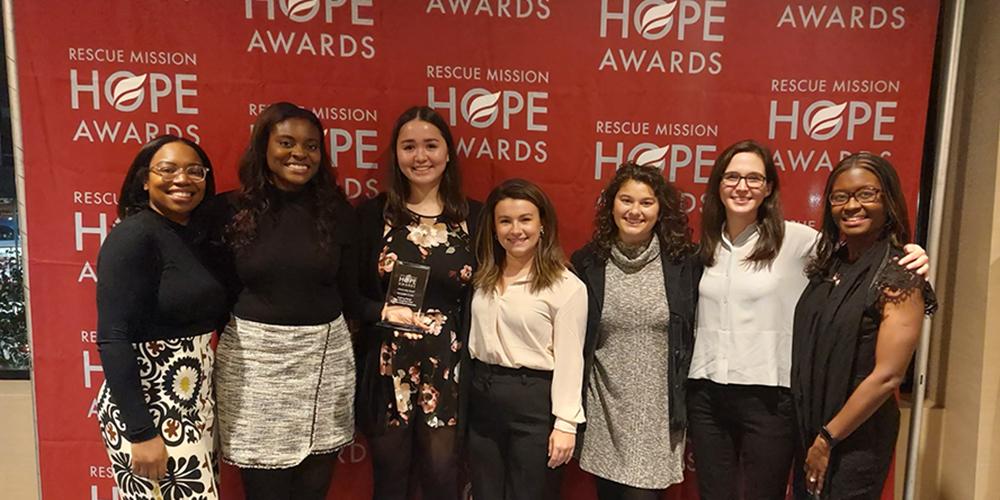 Upstate foot care program wins Community Hope Award from Rescue Mission Alliance
Upstate Medical University's Helping Hands for Forgotten Feet, which provides monthly footcare and health screenings to women and men experiencing homelessness, has received a 2022 Hope Award from the Rescue Mission Alliance.
Upstate won a Community Hope Award for its monthly clinic held at the Kiesewetter Shelter on Dickerson Street in Syracuse.
Helping Hands for Forgotten Feet (HHFF) started about 10 years ago and is one of Upstate's Service-Learning groups. Run by four student leaders, a group of eight first- and second-year medical students meet monthly at the shelter to run the clinic with the help of Barbara Feuerstein, MD, associate professor of medicine, who oversees the program, and several local podiatrists who volunteer their time. Feuerstein, an endocrinologist at the Joslin Center, does a general health screening that includes a diabetes screening with the help of the students.
Feuerstein said men and women who experience homelessness often have foot issues because they are on their feet all day, often wearing old shoes that are either too small or too big and without a way to care for their feet. The clinic provides services from bathing to nail and callous trimming, to fungus and wound care and neuropathy care.
Ryan D'Amico, DPM, of Syracuse Podiatry, who has volunteered since the program's inception, said the program is important because many of the patients never realized there are solutions to their foot problems.
"We can show them that caring for their feet, their foundation, will have a profound effect on the rest of their body," he said. "It's gratifying to see a patient limp into the clinic and sometimes you're able to make such an impact, they almost dance out."
Feuerstein and D'Amico both stressed how grateful the patients often are. As helpful as it is for the patients, it is also a valuable experience for the medical students.
"They treat the patients with amazing respect and dignity and care," Feuerstein said. "They open their hearts to them; it's very precious for me to see the medical students in that setting."
Feuerstein expressed her gratitude to the podiatrists like D'Amico who volunteer each month.
"They are so kind-hearted to come help at the end of their long days," she said.
D'Amico said the enthusiasm of the students motivates him. He is joined at the clinic by fellow practice podiatrists Donal Erickson, Keith Sherman, Justin Muser and Anne-Louise Smith.
"Even after the most difficult day, I feel rejuvenated and a renewed passion for my line of work," D'Amico said.
Dominique Alexis, a second-year medical student, is one of the four student leaders. She said that even though the clinic is small, it can make an impact in someone's life during a difficult and vulnerable time.
"My involvement so far has already allowed to me learn a great deal and provide with me tools so that I can confidently be an advocate in my future career as a physician that wishes to work with underserved communities," she said. "It doesn't feel like work because it's something that I care about and look forward to doing. The more clinics we put on, the more I want to see this program grow and reach as many people as we can.
The clinic serves about 20 to 25 patients each month, and Alexis said they are starting to see return patients. Recently, one such patient addressed a volunteer by name and asked to be screened by him.
"It was a small interaction that we witnessed but I think that it is a testament to the program being a consistent and trusting place for these individuals and to our student volunteers who are dedicated to serving," Alexis said.
Mackenzie Naum, senior director of development for the Rescue Mission Alliance said the organization is thrilled with the work and dedication of the clinic volunteers.
"This team is an important piece of putting love into action here in the Syracuse community," Naum said.
Feuerstein said she is also grateful for the work of Simone Seward, director of the Center for Civic Engagement, which funds and oversees the Helping Hands for Forgotten Feet program in collaboration with her, as well as Assistant Director Armando Martinez. The CCE establishes service-learning programs through community.
HHFF has ongoing supply drives for toiletries, coats, hats, mittens, shoes, socks and items for foot care such as lotion, soap, emery boards, pumice stones and nail clippers. Items can be dropped at the Joslin Center for Feuerstein.
Email Feuerstein for more information at FeuerstB@upstate.edu.
Accepting the award from the Rescue Mission Alliance are, from left, Dominique Alexis, Elsa Diaw, Jessica Leipman, Rachel Fisher, Julie Ehrlich, Anna Kanter and Simone Seward.